Glass display doors are the window of opportunity for some of your key convenience store profits!! Selecting the correct door for your application is most important!
Styleline Doors are the industry leaders when cost and efficiency are your goals!
Glass Refrigerator Display Doors
Selecting the correct door for your application is most important! You can choose from and consider operating walk-in cooler temperature, ambient humidity, appropriate glass width and height, gravity-fed shelving or flat shelving, T-8 Lighting or LED Lighting, Shelf Depth, Heated Doors Vs. Non-Heated Doors. The variety is wide-ranging!
Glass display doors (also called reach-in doors) or merchandising doors do just that–they merchandise your products to your customer! At JayComp Development, convenience store design consultants, we are aware that many of you have existing stores and want to complement your current door manufacturers so we carry them ALL!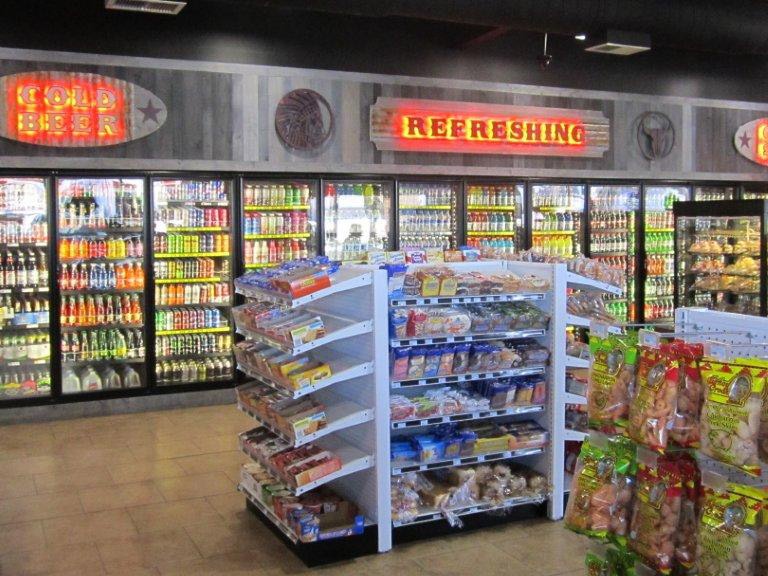 We look forward to assisting you with your beverage cooler. Our area of expertise is walk-in cooler design, and we distribute the leading names in the industry when it comes to glass display doors! Styleline Glass Doors are the industry leaders when cost and efficiency are your goals! If you are planning to replace your existing beverage cooler doors or design a new walk-in cooler with matched, commercial refrigeration, we can help!  See JayComp, convenience store designers.
Standard Display Door Package Includes
High output T-8 electronic lighting
Pre-wired and fully integrated energy control system
Heavy-duty 27 inch shelving with price tag molding
Shelf standards (posts) with brackets and levelers.
Optional Upgrades & Accessories
Advanced Lighting System (ALS) with prism lens
LED lighting system
Full-length handle
Slide-Trac® shelving system
Super Slide-Trac® gravity-flow shelving system
Integrated locking system

Call the professionals at JayComp Development, convenience store design consultants, to give your walk-in coolers a bright, new, and efficient look with Anthony Doors! Style, eye appeal and performance taken to new heights! Our commercial coolers are second to none, and we design to meet your needs! Sign ideas and merchandising opportunities to impress your customers! Contact us today to design your new walk-in cooler with high-efficiency commercial refrigeration.
Anthony's Model 101 Performance Series 
The new and improved Anthony Model 101 Series sets an even higher standard for performance and energy efficiency in reversible cooler and freezer doors, with narrow door rail available for maximum product visibility.
Anthony Doors 401 Economy Series
This series of frames and doors for walk-in coolers and freezers offers easy-to-install packages complete with shelving, lights, and continuous frame lineups these products are produced to Anthony's high-quality standards.
Eliminaator 
Anthony's Eliminaator Series now available in two door & frame rail versions- standard (ELM1) or curved (ELMC) – both highly energy-efficient for  walk in cooler and freezer applications. The Eliminaator doors easily retrofit to most Anthony frames, These eliminate all glass heat in the doors, offer impressive energy savings and fast payback on investment.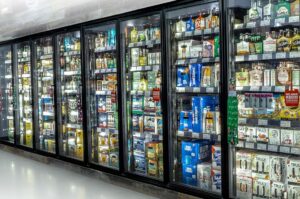 Glass Display Doors and Convenience Store Design
Glass display doors and convenience store design go hand in hand. Clear, glass doors are the perfect way for clients to get a first-hand look at all the merchandise a store has to offer. They also make the products look attractive to potential buyers, which could prompt them to purchase.
JayComp Development supplies all the major brands of glass doors for your refrigerated merchandising needs.  We are distributors for Styleline Doors Anthony Doors and Commerical Display Doors.  As convenience store design specialists, we understand how important it is to make products look appealing to customers.
Why Utilize Glass Display Doors in a Retail Space?
Glass display doors make it easy for customers to browse a large variety of products, from soft drinks to juice to bottled water dairy and some refrigerated grocery selections to alcoholic beverages. Customers can easily view the products without touching them, allowing them to decide whether or not they want to purchase something quickly.
Also, glass display doors help refrigerated spaces and coolers, helping keep the products cool while giving customers the ability to see them. This glass display gives retail spaces an open, airy appearance without sacrificing any shelf or cooler space.
Here are just a few ways that businesses can benefit from installing glass display doors:
Providing customers with easy access to products and goods

Giving staff an idea of how much product needs stocking

Creating an open and inviting store layout

Giving the store the organization it needs

Helping business owners create a welcoming storefront for customers

Keeping products refrigerated or protected
Glass displays have many benefits, which store owners can utilize to improve their convenience store design. With the team at JayComp Development, retail owners can get the layout they need for their store while inviting customers to browse and shop.
How to Design Impactful Product Displays
Designing effective displays is one of the most critical aspects of retail sales. An attractive, organized storefront can make a customer feel positive while shopping, providing them more incentive to purchase goods.
The team at JayComp Development understands this concept, which is why we work closely with store owners to design a convenience store that best meets their customers' needs.
One of the most critical factors of the convenience store design is adequate display space. We at JayComp Development know how vital it is to place products in an accessible area for customers while not taking up too much room that people could use for other purposes.
Our team takes significant time and effort to design convenience store layouts that make the customer feel welcome. 
For example, glass displays can be integrated into convenience stores effectively to create a welcoming atmosphere. They allow customers to see what products they are shopping for before grabbing them from the shelf, providing convenience and organization. 
Here are just a few ways our team at JayComp Development works to design effective glass door displays:
We decide the shelf depth and width.

We determine whether the doors should be heated or not.

We decided on the type of LED lighting involved.

We talk to the client to ask about customer behaviors and routines.

We adjust our design based on customer and client needs.

And more
Designing and developing an effective glass display can seem challenging at first, but collaboration between our team and yours can make the process go smoothly.
If you already have glass door displays in your store, don't worry; our team carries all of the top glass door products so that we can match your store's design.
Glass Display Design Services at JayComp Development
Customer satisfaction is essential in the world of retail sales. With attention spans growing shorter as the years go by, it's crucial to grab your customers' attention as quickly as possible. 
Glass display design can help store owners get their customers' attention quickly. This type of design provides an attractive, well-stocked display that meets their needs.
JayComp Development can help convenience stores with their layout and design needs, including glass display services. Our developers know the industry well and have the experience necessary to provide convenience stores with attractive, functional, and practical designs.
We know which products sell best and generate the most customer attention in-store, so we create our designs around those products.
Our team works hard to provide glass displays and refrigerators with dimensions and shelf sizes that meet the demands of customers' demands at their store. We understand that the customer comes first in retail, so our designs work to meet the customers' needs.
At JayComp Development, our convenience store development team knows convenience stores inside and out. 
Our developers have decades of experience in convenience store design, glass display doors, refrigeration, and foot traffic patterning. We would love to help your team explore the options behind convenience store design today.
About JayComp Development
JayComp Development is a convenience shop design firm that specializes in the layout of convenience stores and the sales and installation of the equipment. 
Convenience Store Floor Plans, Foot Traffic Patterning, Equipment Selection, Plumbing Considerations, Wall Framing, and Electrical Considerations are all part of the floor plan design process. 
We not only design locations, but we also supply the equipment and fixture package. This approach ensures that the equipment is specific to the store package; it also ensures the equipment fits the space allowed and matches the Mechanical Electrical and Plumbing considerations.
To provide the most satisfactory service possible, we combine these aspects with graphics and decor that complement the design to create a package tailored to your specific needs and preferences.
In the Convenience Store industry, there are several businesses from which to choose. However, few companies understand what it takes to plan and execute a Convenience Store, Grocery Store, or Liquor Store project from start to finish and supply the equipment package. All of the segments can be organized and delivered by JayComp Development!
We look forward to hearing from you! We are experts in store design and construction, foot traffic planning, walk in cooler design, and so much more. Contact Us Today! We love helping customers! Feel free to Chat with us by clicking on the button in the bottom right corner of your screen.
9310 OK-1 S, Ravia, OK 73455
sales@jaycompdevelopment.com