Convenience Store Floor Plan Design
Are you looking to develop a fully custom floor plan for your convenience, liquor, or grocery store? If so, you have come to the right place. JayComp Development is proud to offer floor plan design services to convenience stores across Oklahoma and Nationwide. We will help you establish your store from the ground up, so no corner is cut. If you would like to learn more about our floor plan design services, give us a call today at 877-843-0183!
Are you looking to develop a fully custom floor plan for your convenience, liquor, or grocery store? If so, you have come to the right place. JayComp Development is proud to offer floor plan design services to convenience stores across Oklahoma and Nationwide. We will help you establish your store from the ground up, so no corner is cut. If you would like to learn more about our floor plan design services, give us a call today at 877-843-0183!

Floor Plan Design
Our team of experts wants to ensure that your store has the proper layout. This commitment is why we will work closely with you to draw floor plans and finalize placements for your store. It does not matter whether it is a convenience, liquor, or grocery store. The JayComp team of experts can help you!

Equipment and Utility Planning
Arguably the most important aspect of your store is the utility equipment you need for it to operate. However, these parts are often the most difficult to plan for and locate. Thankfully for you, our experts can plan and develop all of the mechanical systems for your convenience or liquor store.

Walk In Refrigeration Design
Every convenience store needs a walk-in refrigerator that stores important items. We design all walk-in elements that your store will need, such as walk-in coolers and freezers.
Are you ready to elevate your convenience store? Give JayComp a call today!
Here at JayComp Development, we take great pride in designing floor plans for convenience, liquor, and grocery stores.  We have found that the easiest way to design your store is by starting at the back of your building. This allows us to pinpoint all elements that you will need for your convenience store. Some of these essential elements include walk-in coolers, walk-in freezers, an office area, and a break room. Additionally, we can design mechanical systems that will keep your store as cool as possible.
If you would like to learn more about our design process step by step, you have come to the right place! The team here at JayComp are more than happy to elaborate on our intricate process.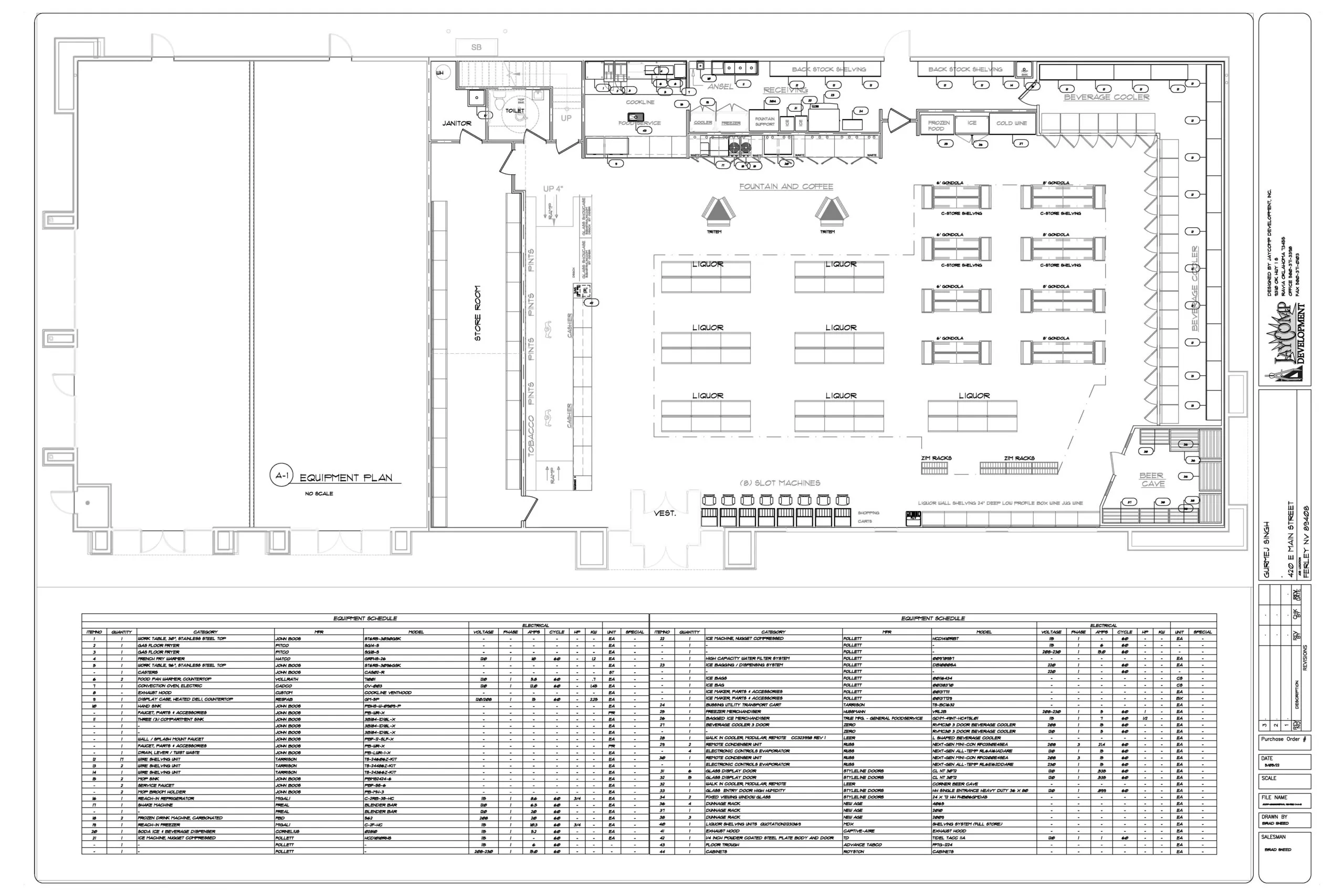 1. Floor Plan Design
When we design floor plans, we ensure that your entire store is accounted for. This process is intricate and often requires much collaboration. If you are looking to design your store in a specific way, do not be afraid to ask us!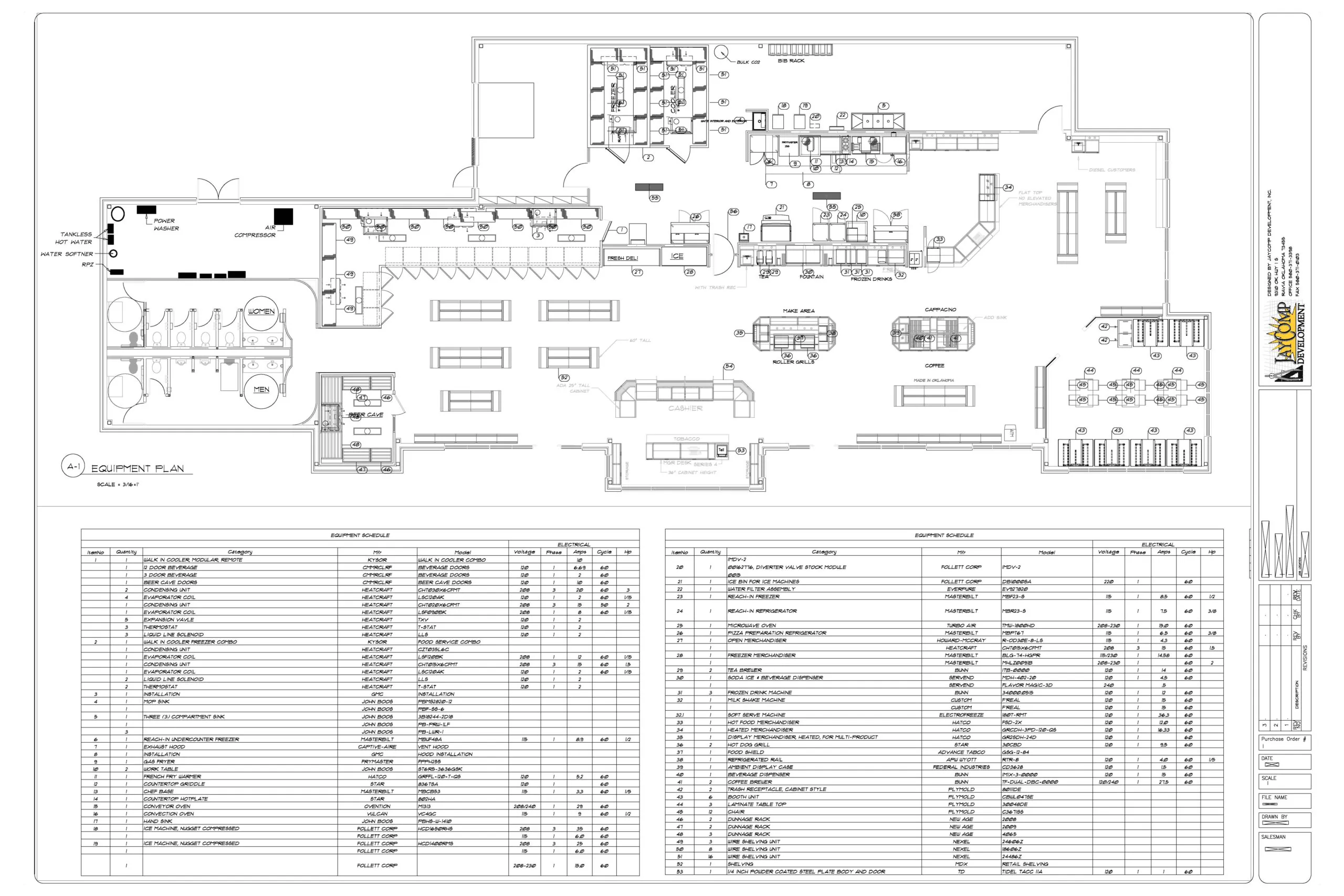 2. Equipment Packages
Our team of experts is able to select and arrange the equipment packages needed to make your store a reality. From there, we can design the layout of the interior walls before specifying and locating the plumbing. This process will ensure that everything, from your plumbing to your air conditioning, will be functional.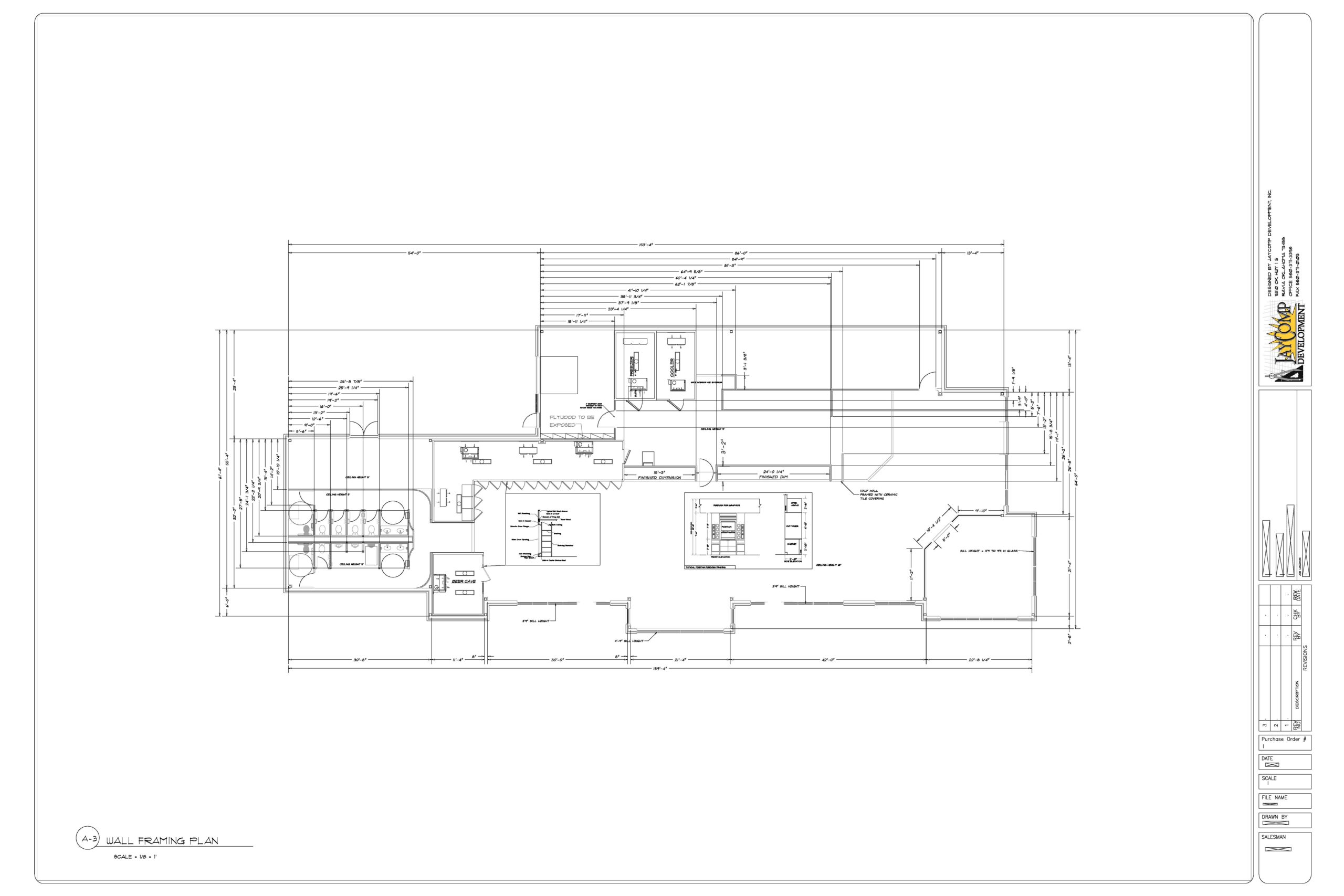 3. Framing Layout
In order to create an efficient store, you need to have a stable frame for your business. The JayComp Development team can help you create the best framing for your new store. Not only that, but we will also find the best materials that can make the store a reality.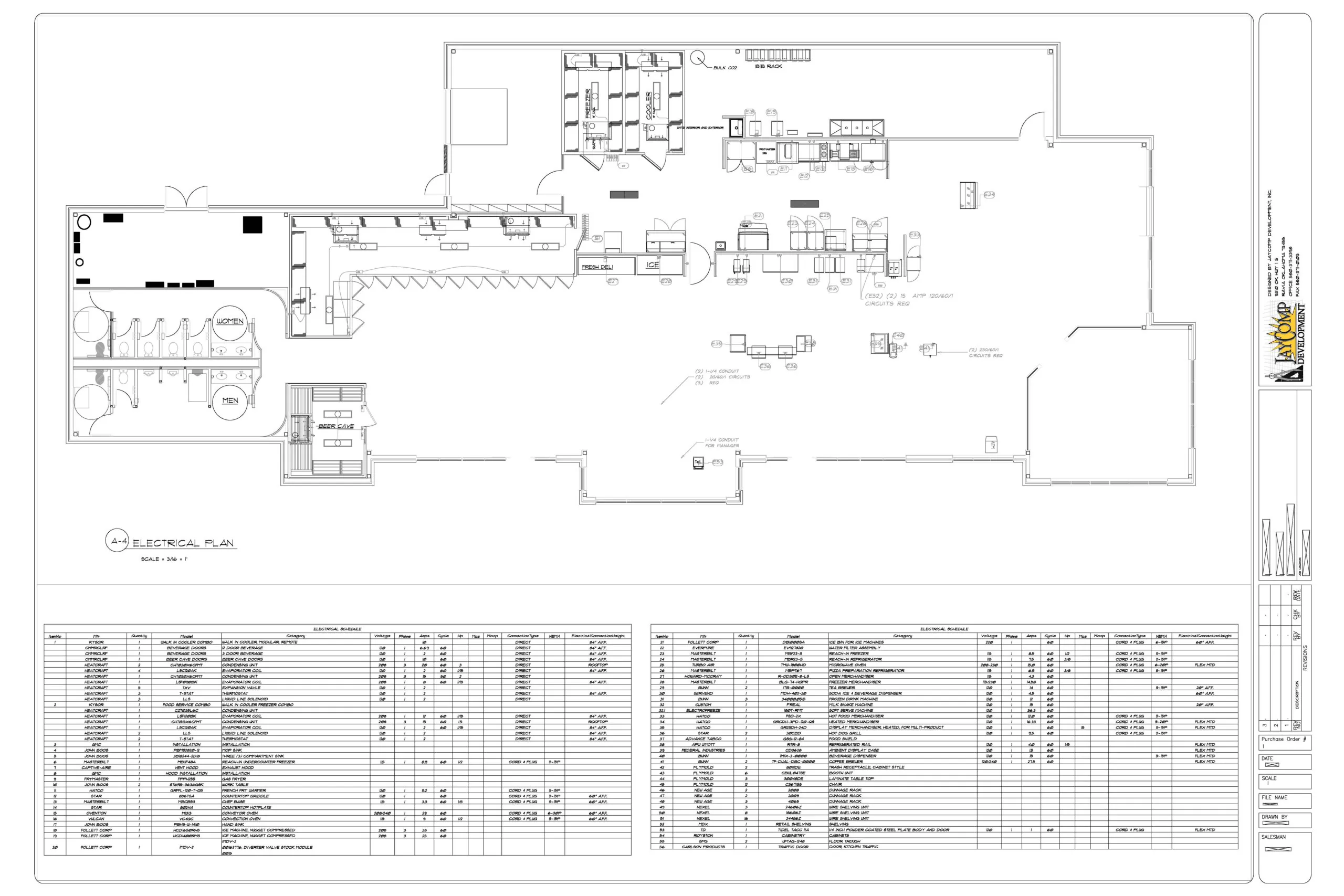 4. Electrical Layout
Your store will not be able to open if it does not have any electricity! Thankfully, we will be able to ensure the electrical layout is fully operational. We provide the electrical layout and power requirements for the equipment package.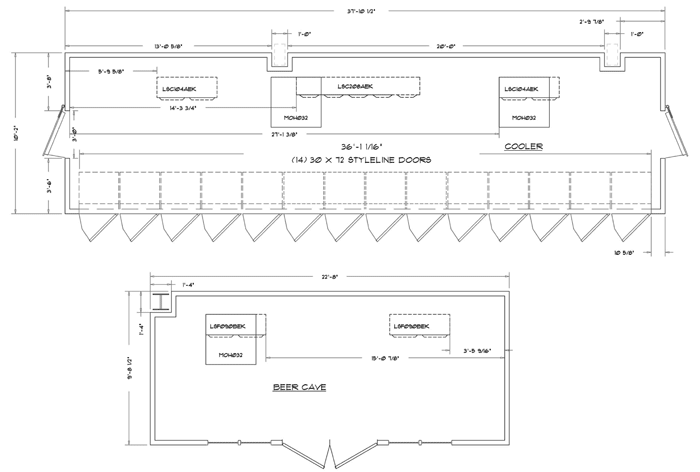 5. Walk In Coolers and Freezers
Your store will not be complete without a walk-in refrigeration unit. If you are still looking for the right units, our team can help. We design the walk-in store elements with refrigeration calculations and power requirements.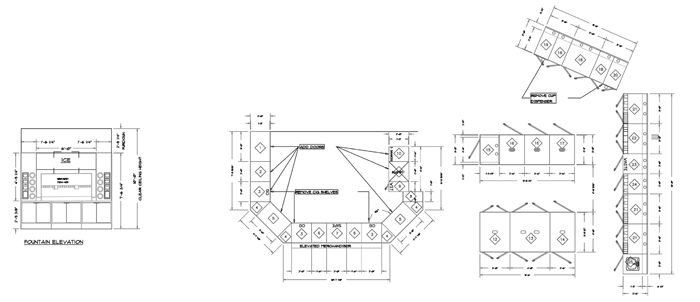 6. Cabinets and Shelving Layout
How else will you be able to store the goods in your store? Our team can provide cabinets and shelves for your store. Furthermore, some of these can come complete with cup condiment and waste receptacles.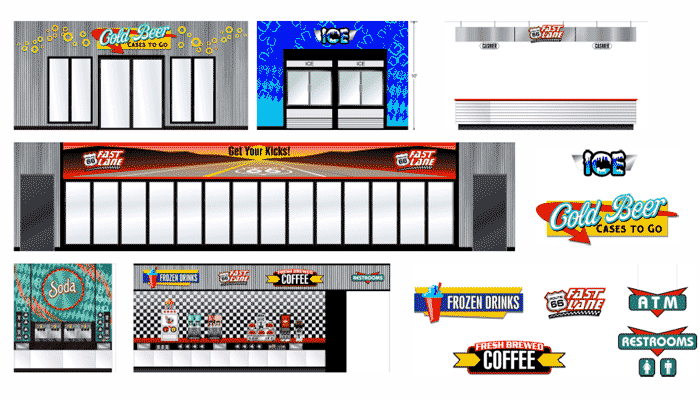 7. Color and Graphics Designs
If you want your store to stand out from your competition, make sure it has a distinct color palette and graphics. If you need assistance with this, we can help! Our experts will determine the best color scheme and branding for your convenience, liquor, or grocery store.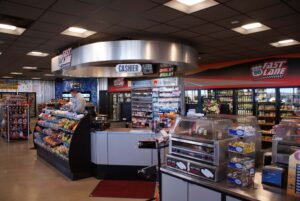 8. Store Delivery Package
After we further polish it, congratulations are in order! We are more than happy to help you bring your dream store to life.
JayComp Development is a convenience store design company specializing in convenience store floor plan design. Floor Plan Design includes Convenience Store Floor Plans, Foot Traffic Patterning, Equipment Selection, plumbing Considerations, Wall Framing, and Electrical Consideration. For the best service possible, we bring together these elements with Graphics and Decor that compliments the design and bring together a package planned for your precise needs and tastes.
There are several companies in the marketplace that deal in the Convenience Store industry. However, there are few businesses that comprehend what it takes to coordinate a Convenience Store, Grocery Store, or Liquor Store project from concept to finished job. At JayComp Development, you can have all of the segments coordinated and supplied to you from one company!
Customer Spotlight | ASAP General Stores
We designed and developed this convenience store project from the ground up. JayComp Development created the floor plan, designed the convenience store, and oversaw the entire construction process including the installation of the walk-in cooler and beer cave installation.
Full floor plan design by JayComp Development

Walk-In cooler design and construction

Beer cave design and installation

Cabinets, shelving, and floor staging design
ASAP General Store - Timeline and Process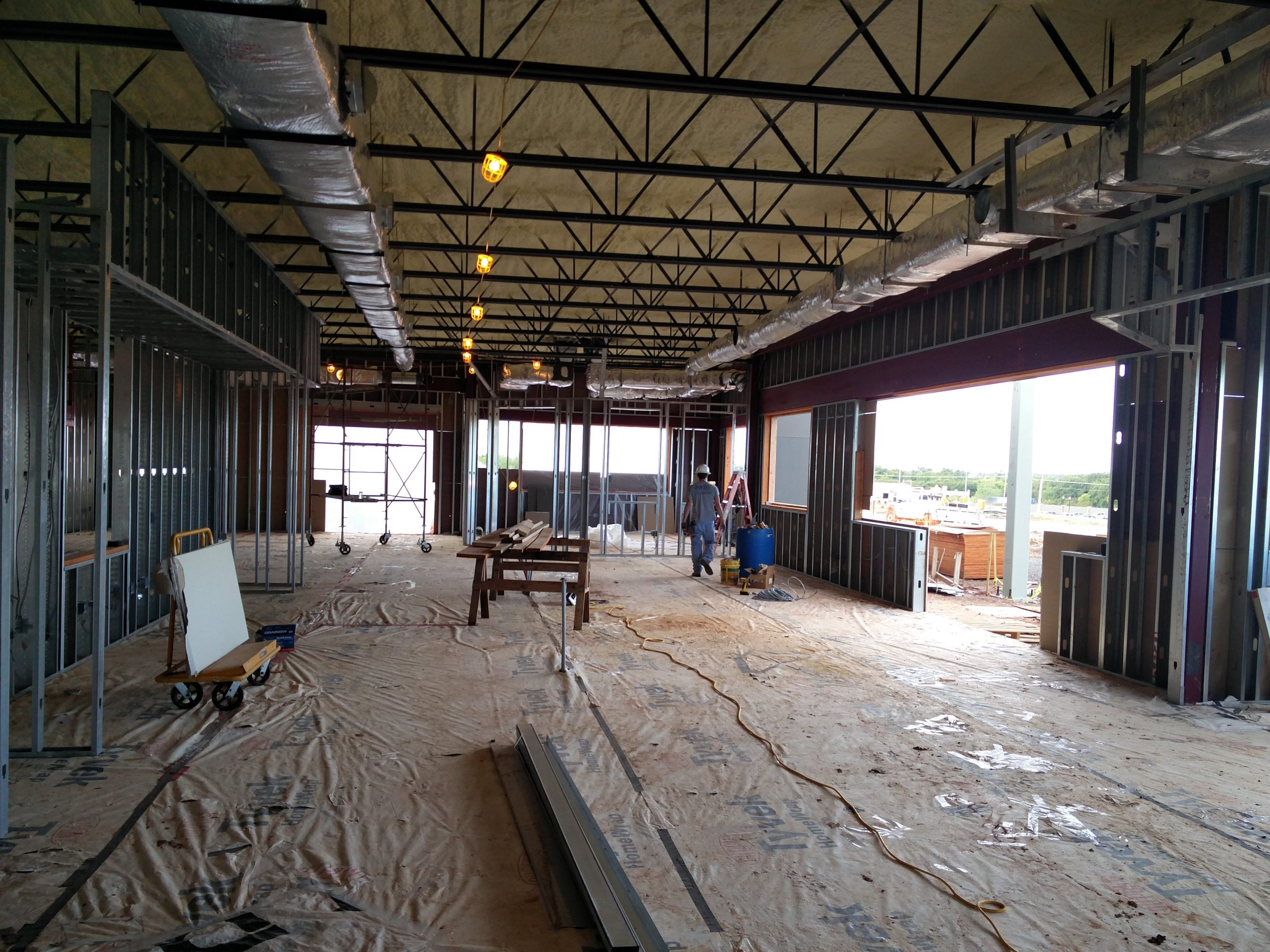 First Step
The First Step in the Equipment Installation Process Happens at this Point. We call this "Building Dry In". At this Point the Building is Ready for Walk In Coolers to be Set!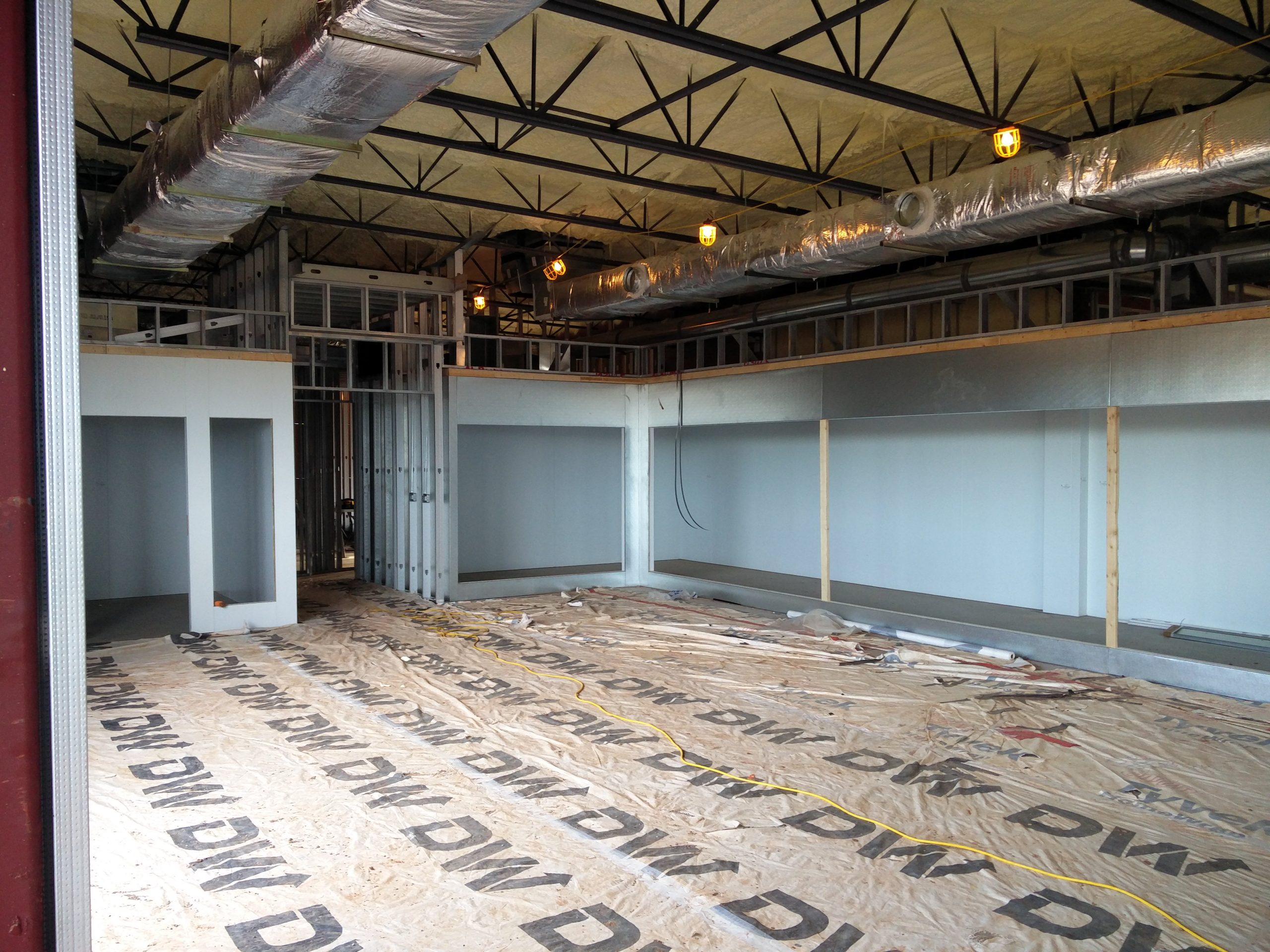 Walk-In Coolers
The Walk-In Coolers are Set Into Place and Become a Part of the Interior Framework of the Building!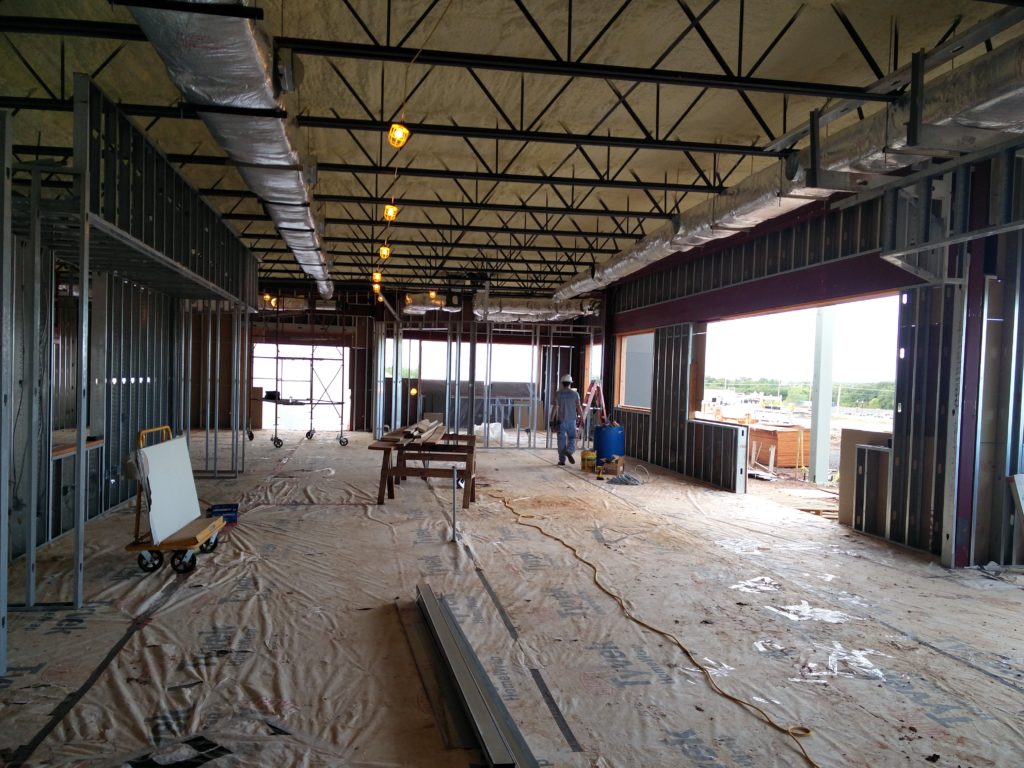 First Step
The First step in the equipment installation process happens at this point. We call this "Building Dry In". At this point, the building is ready for walk-in coolers to be set!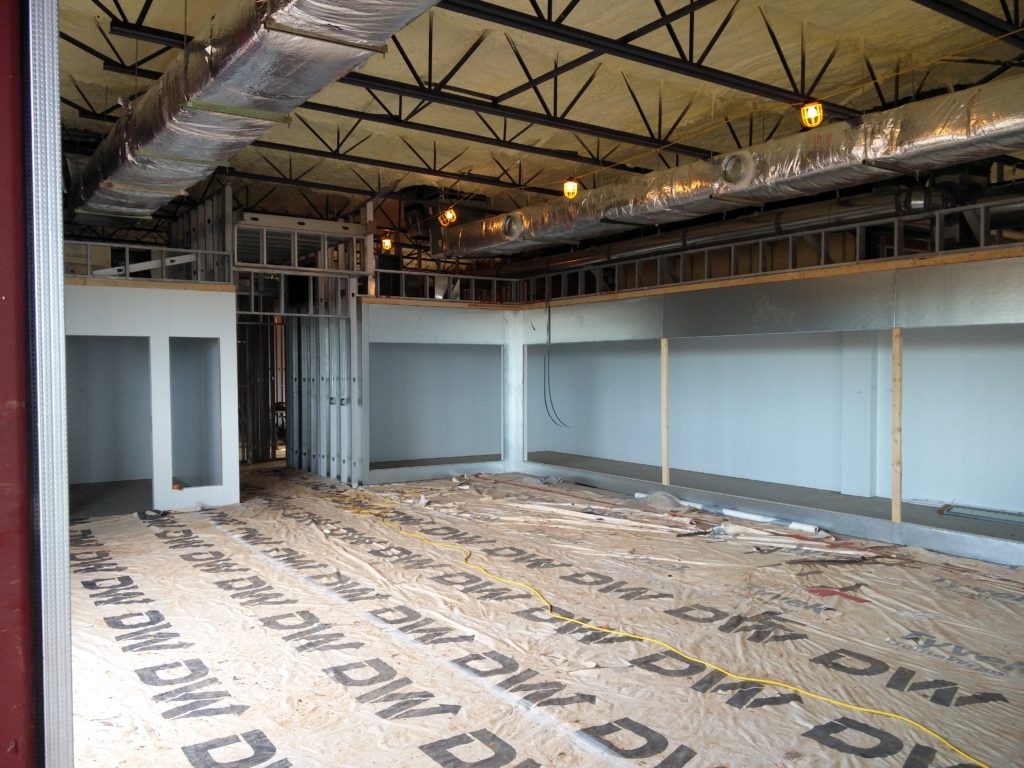 Walk-In Coolers
The walk-in coolers are set into place, becoming part of the interior framework of the building!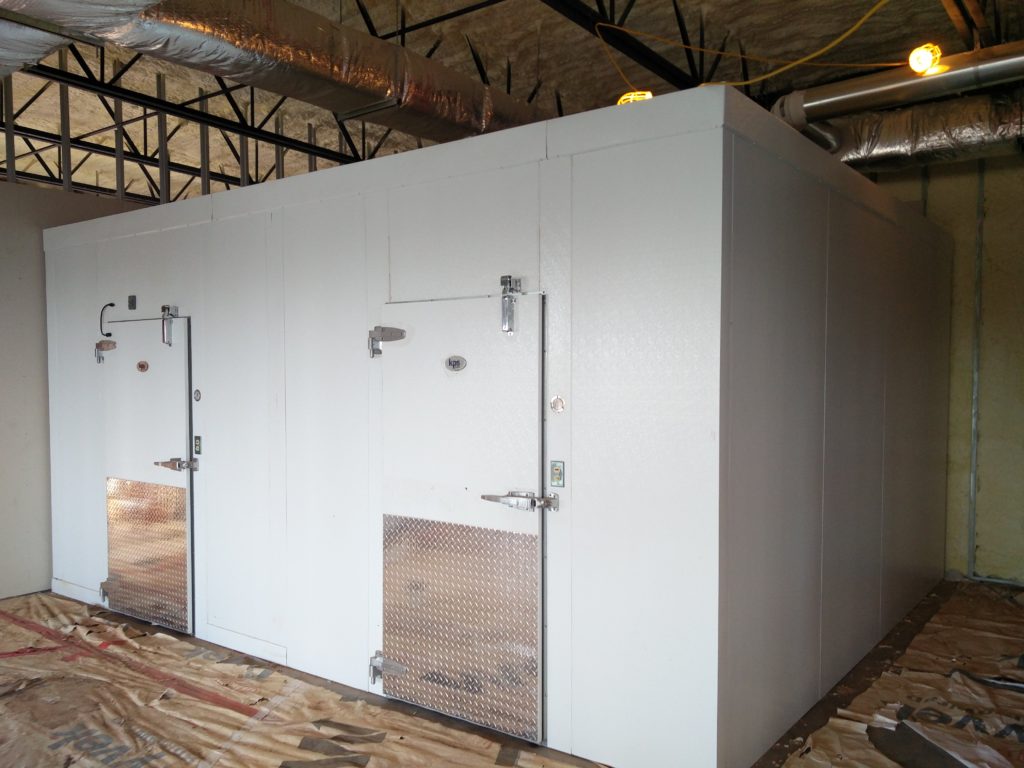 Food Service Walk-In Freezer
This is a picture of the foodservice walk-in freezer and cooler, which is placed and ready to receive the drop ceiling. The next phase of construction is after the walls of the building have been covered. We use a white baked enamel finish which makes cleaning easier and gives a finished appearance to the walk-in package.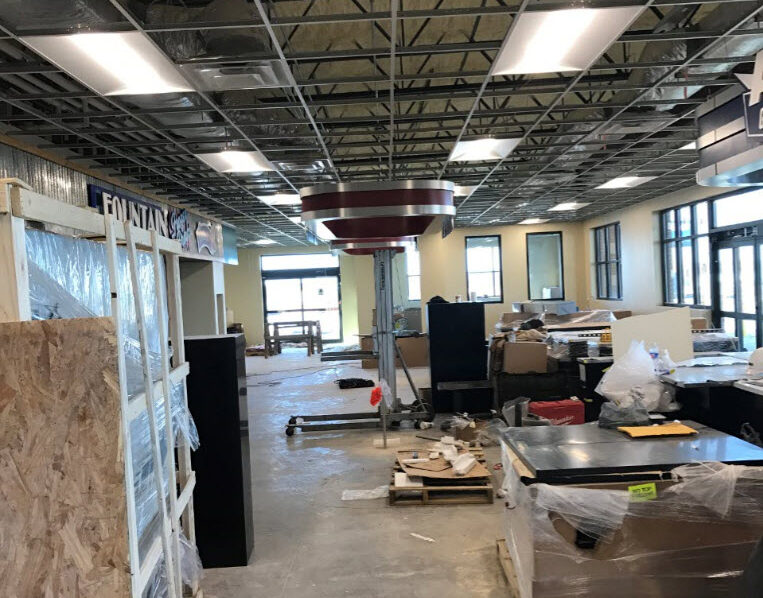 Graphics Work and Package
This is the beginning of the graphics work. We design the graphics package and begin the installation shortly afterward. This installation usually happens after the drop ceiling is installed but in this application, we installed this a little earlier in the process to gain access to the building roof structure. From here, we will purposefully suspend canopies over the foodservice equipment and cashier areas.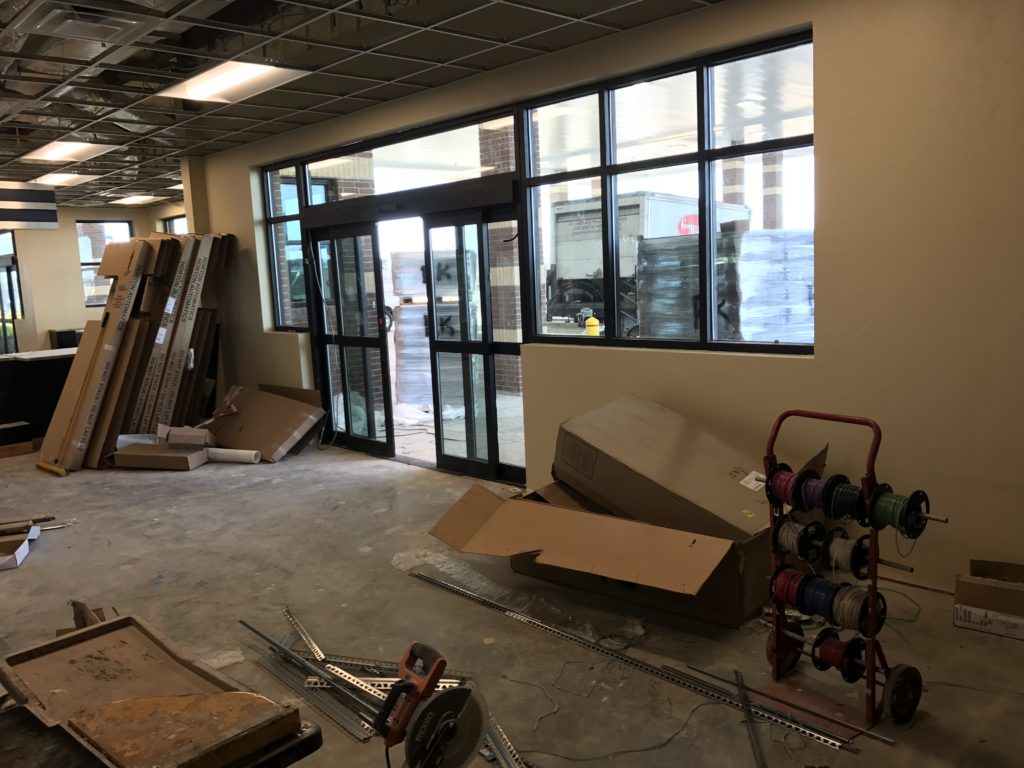 Interior Equipment Package Prep
This is a picture of the construction jumble that happens just before the interior equipment package and retail fixtures are set.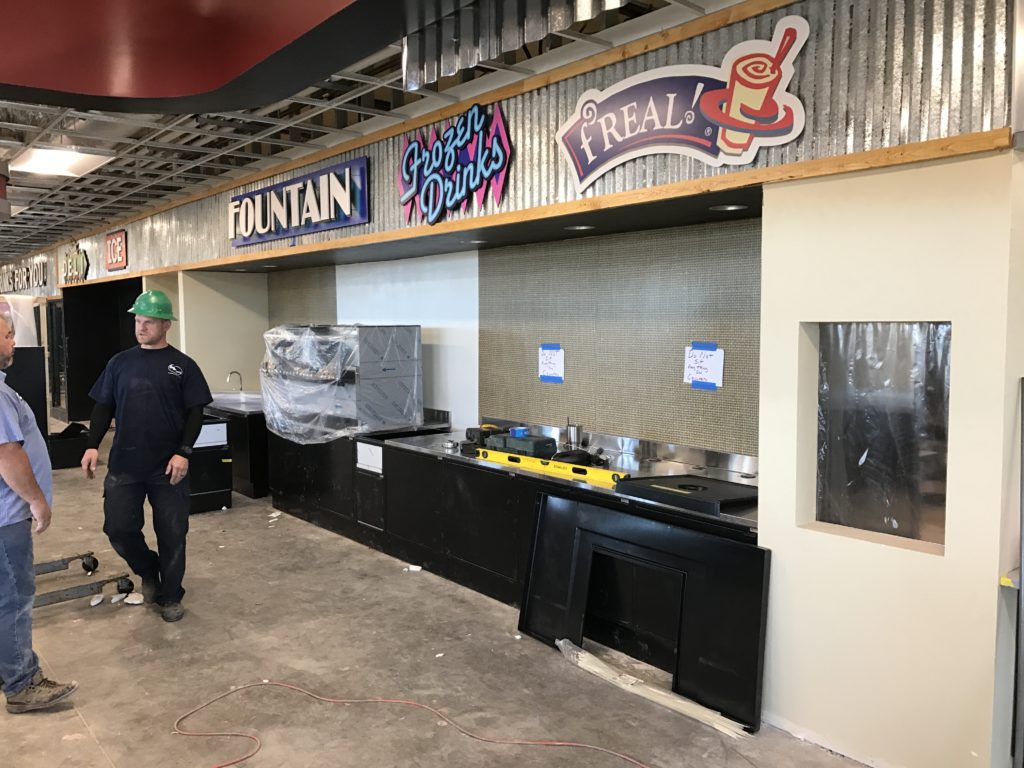 Cabinet Installation
This picture shows the result of our high-quality cabinet installation process. At this location, the floors were unstained concrete with a polymer finish that was applied after the cabinets were set. Typically with tile floors, the cabinets are set after all of the tiling has been completed.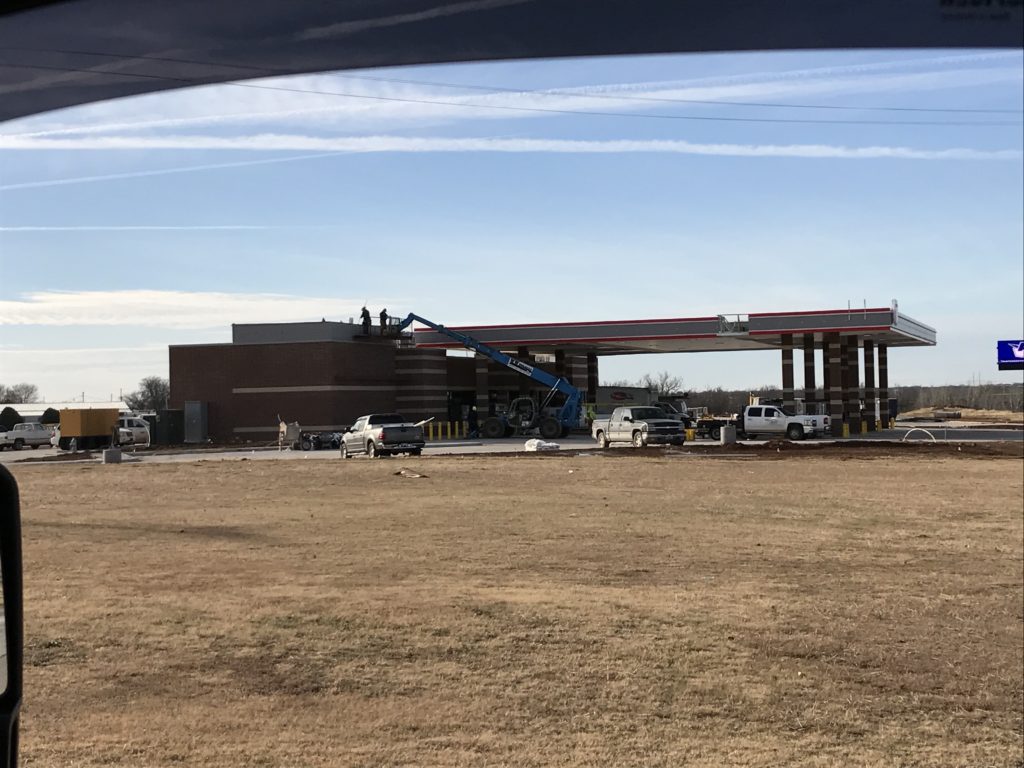 Outside Progress
If you would like a reference to our effective work, this is a picture showing the progress on the outside of the building. Our team creates workflows that operate smoothly outside and inside at a rapid clip!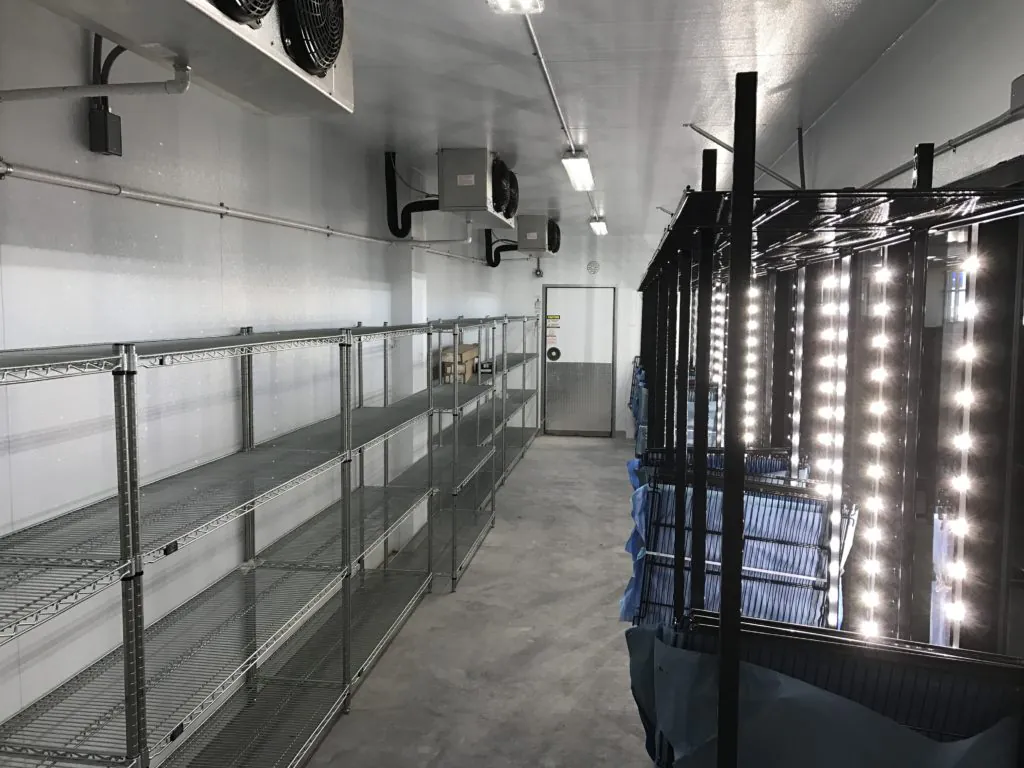 Beverage Cooler and Backstock Shelving
This picture shows the interior of the main beverage cooler with backstock shelving against the back wall of the cooler and the shelving package installed behind the glass display doors. The standards are set with top and bottom shelves. The remaining shelves are set by the vendors as they merchandise the doors for retail display.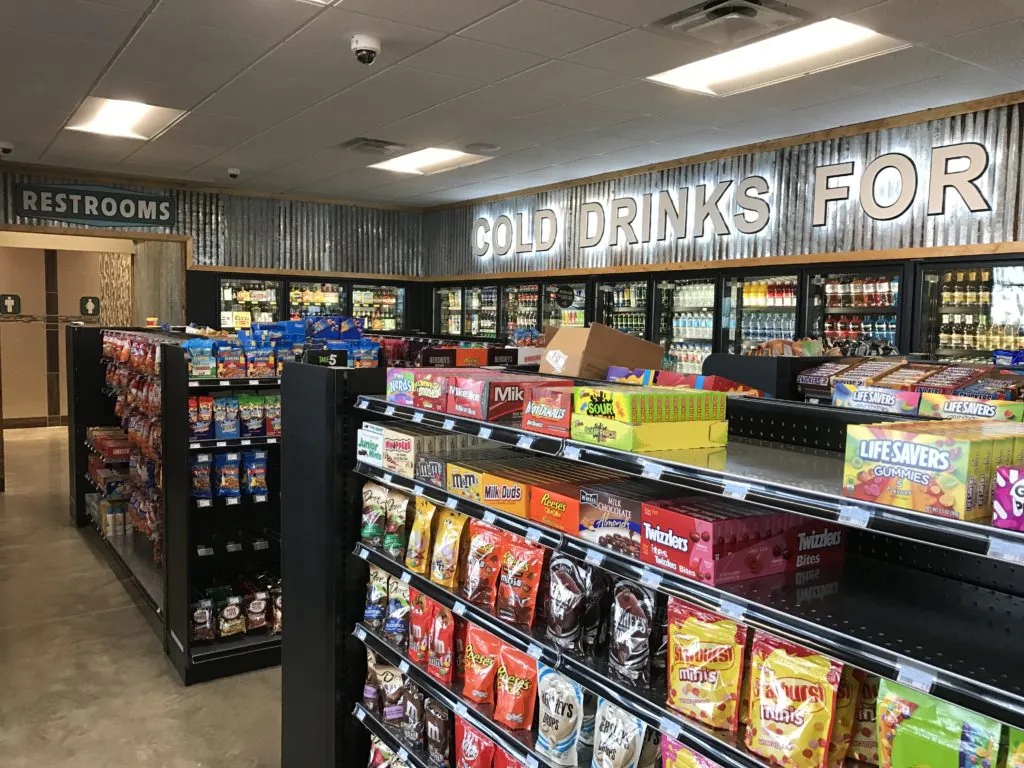 Vendor Products, Voila!
This is a look once the vendors have set up their products. Having a specific arrangement for your products is critical for maintaining order in your store.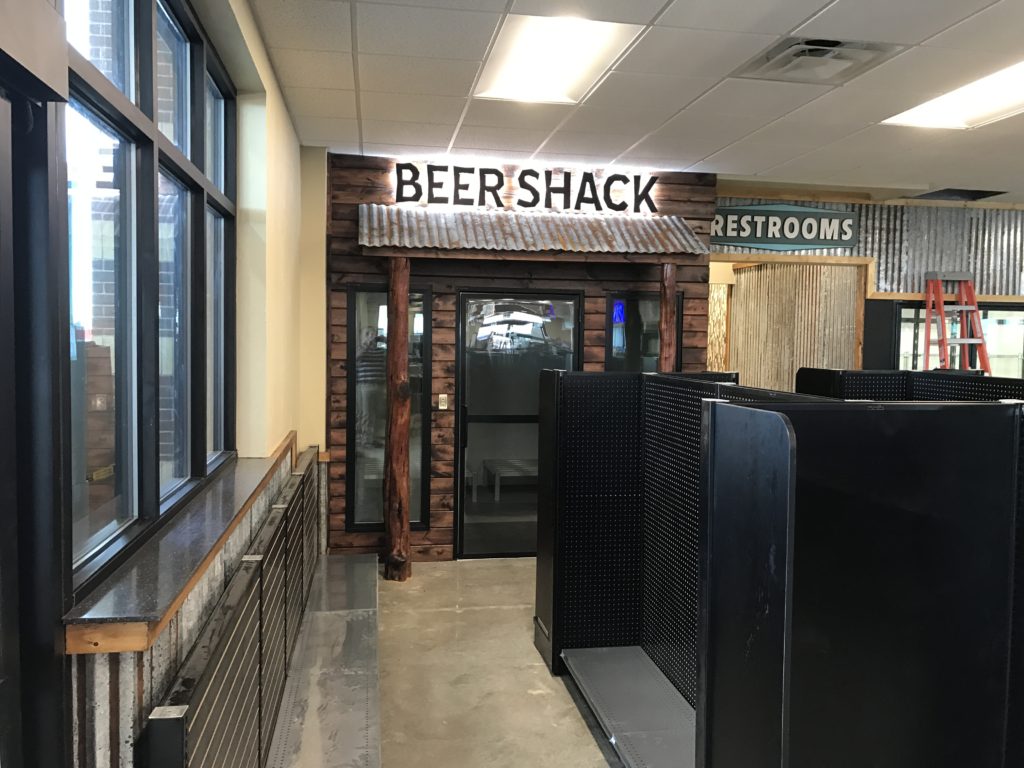 The "Beer Shack" Beer Cave
This is a picture of the "Beer Shack" commonly referred to as a beer cave. This type of walk-in holds the product inside at 28 degrees F which is the coldest temperature that beer can be stored without freezing. We used aged wood and a backlit sign above aged metal on cedar posts. The look is rustic and develops a finished look reflecting the taste of the owner!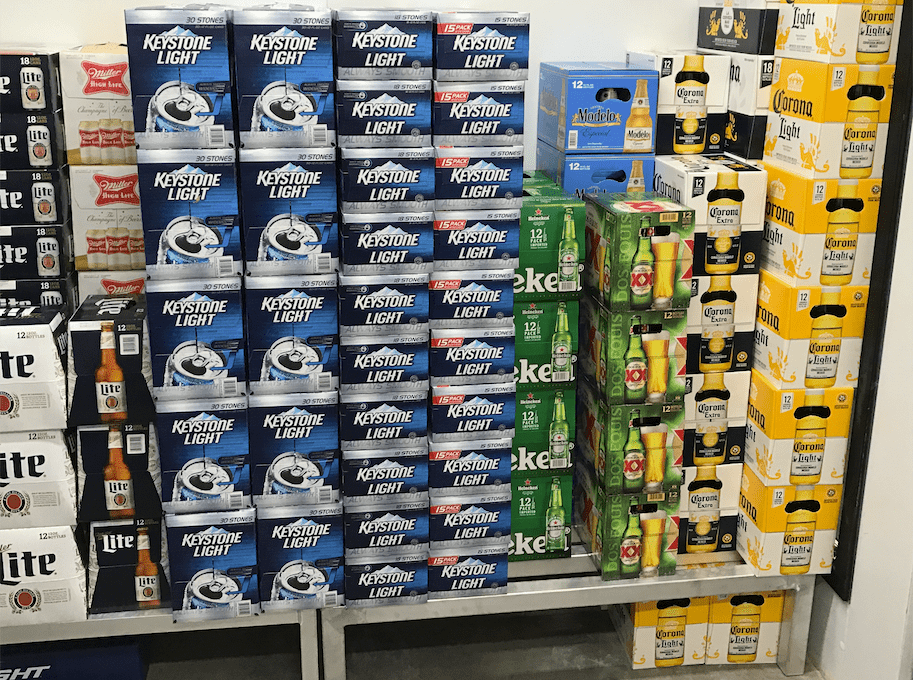 Beer Cave Dunnage Racks
Pictures from the inside of the beer cave showing the product placed on dunnage racks. The purpose of these racks is to enhance airflow and allow for cleaning! As you see, the Corona Man has elected to use it for storage below. This arrangement will not be acceptable by the Health Inspector, so be careful how you arrange your products!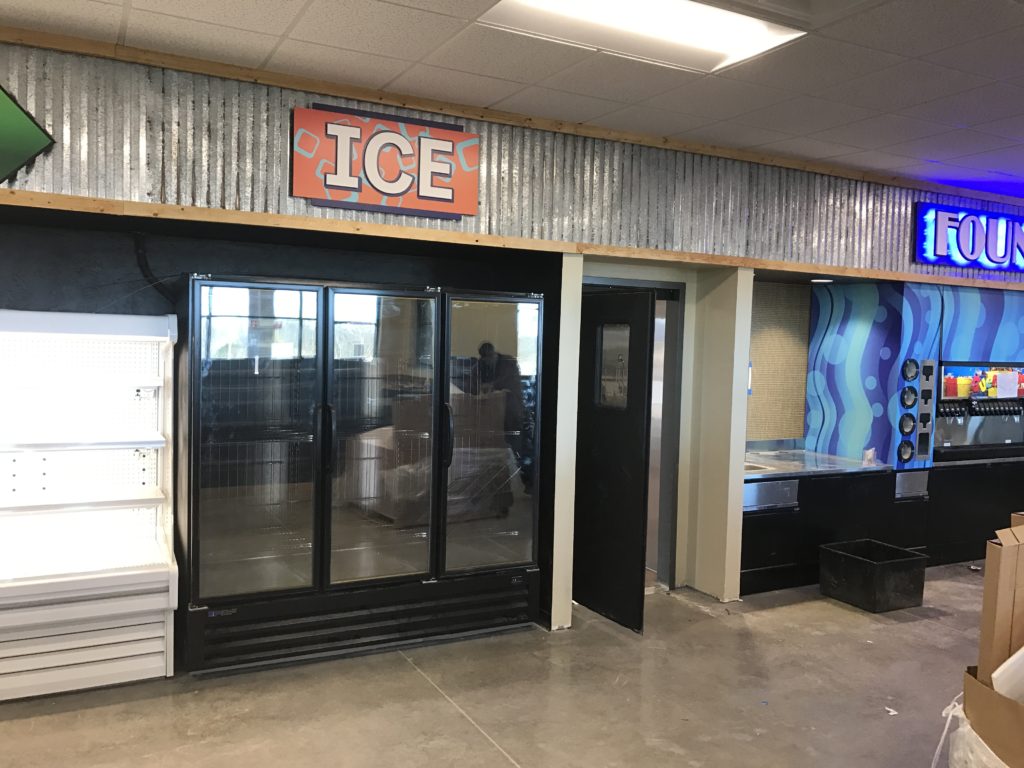 Open Air Mechandiser
This picture shows the corner of the open-air merchandiser used for fresh produce that is setting alongside the glass door freezer used for ice and frozen food. Produce is something not normally seen in convenience stores but is becoming a popular item for snack cups and healthy alternatives to the common fried food offerings of C-Store cuisine. If you notice we have a very distinct contrast using white for this merchandiser. Some ask "Why?" Well, the reason is to draw your eye to this offering again not normally.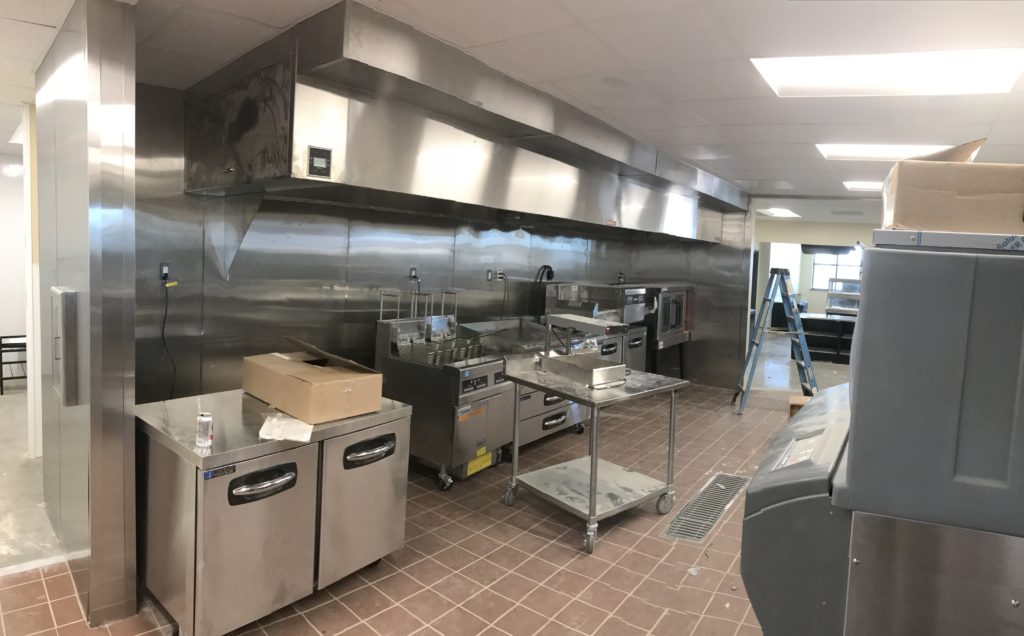 Cookline and Cooking Equipment
This is a picture of the cookline showing the cooking equipment and the installation of the Vent Hood system. In this picture, we are assembling and setting the equipment for connection by the plumbing and electrical contractors. Once those connections are made and all of the equipment is in its place we final out the hood installation with Ansel and startup the appliances for final inspection by the Fire Marshall. Of course, we always take regard to the hood and cooking equipment.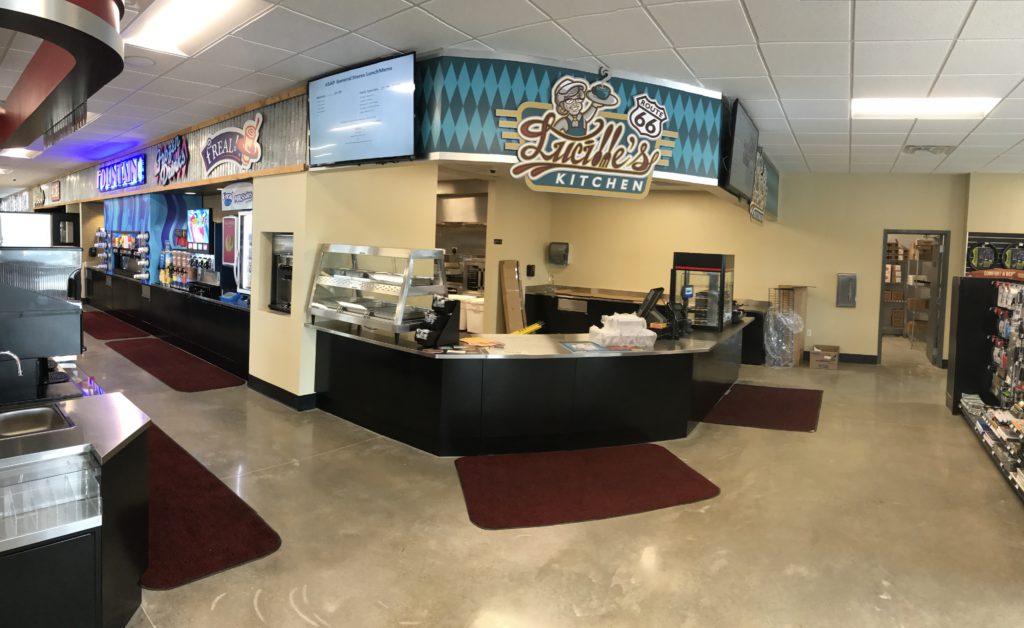 Snapshot of Lucille's Kitchen Area
This is a snapshot of Lucille's Kitchen area with a panoramic view of the front graphics and color band stretching the length of the store! If you want to get a great graphic like this, give us a call.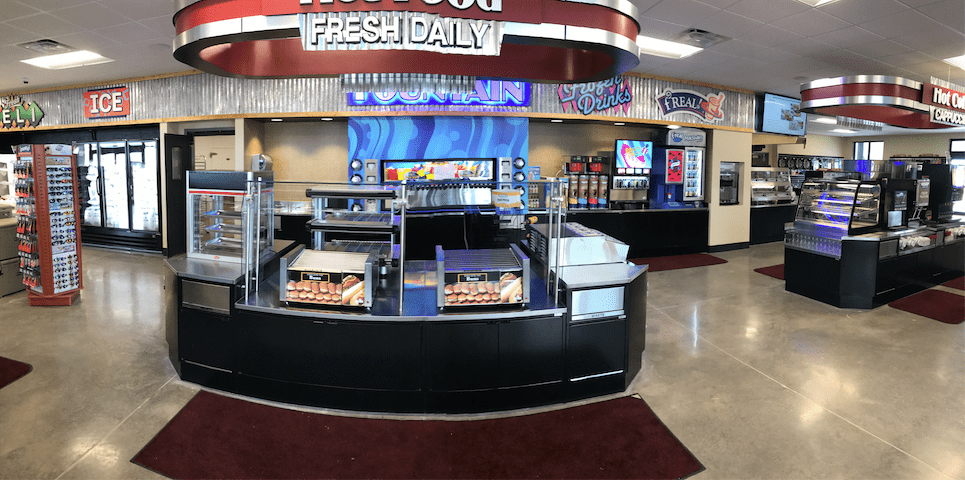 Fresh Deli Offerings and Cappuccino Island
This is a shot of the Fresh Deli offerings and fountain areas which flows over to the coffee and cappuccino island and into the Lucille's Diner area. From here, patrons can enjoy the fresh offerings from their extensive kitchen creations!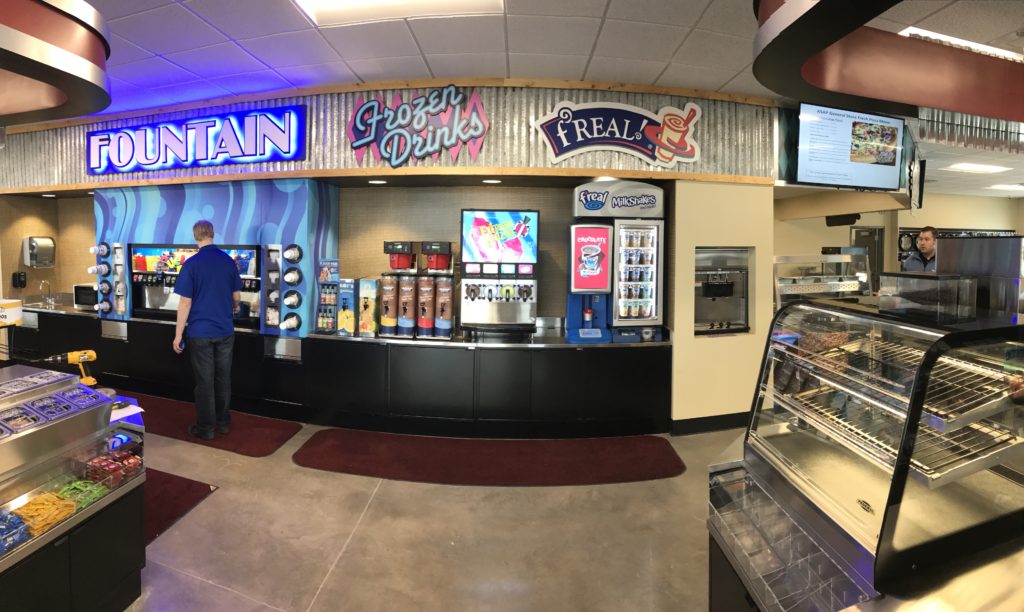 Fountain and Frozen Bar
If you have a fountain drink and frozen bar, you need to ensure it is kept in the best shape possible. It needs to be nice, clean, and well presented.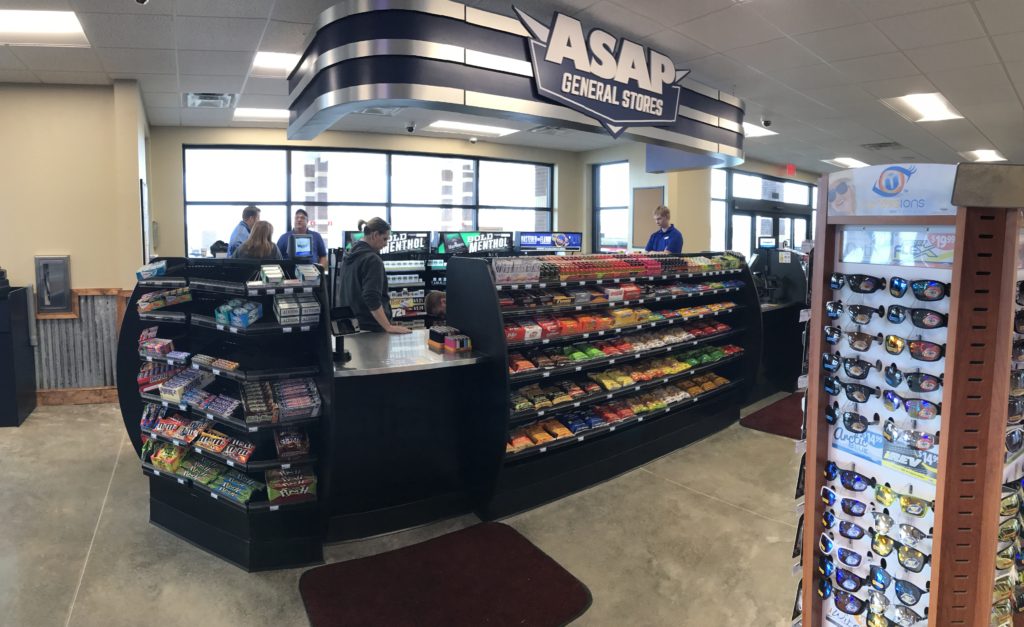 Cashier Area with Elevated Merchandisers
For the cashier area, we use elevated merchandisers to hide the day-to-day operations and create any impulse buy opportunities. This marketing idea is one that has been tried and proven to be very successful for store owners and we highly recommend them!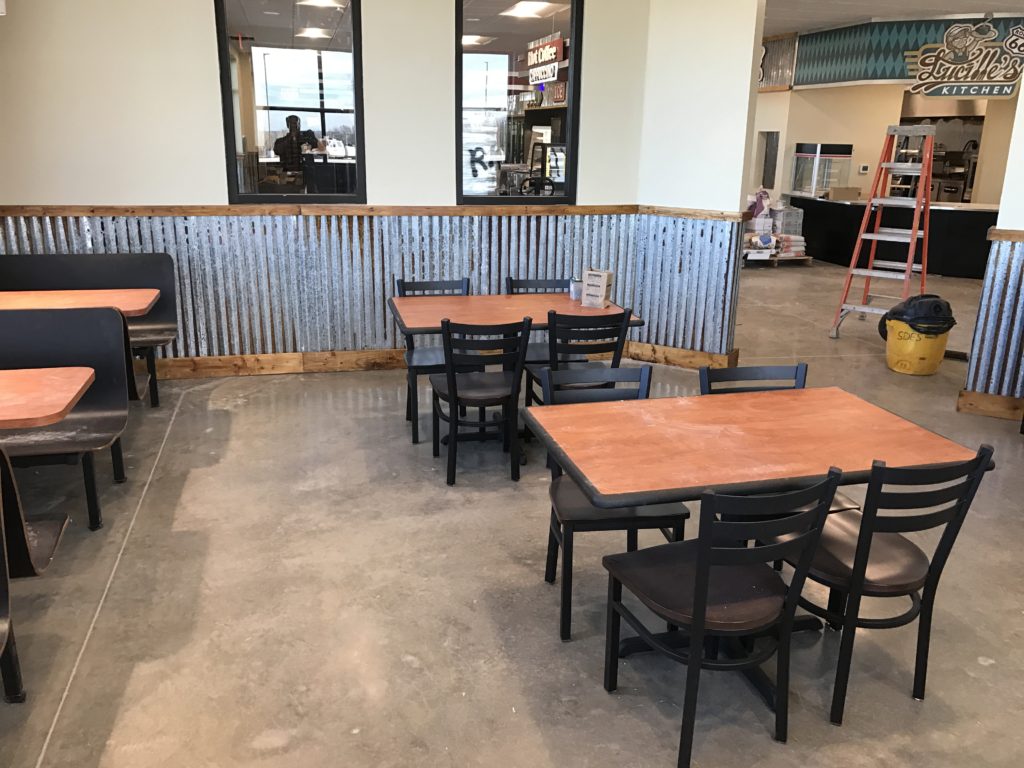 Seating Area
It is critical that any seating area you put in your convenience store is nice, clean, open, and away from the sales floor! After all, you don't want your rush hour traffic slowed down by patrons who are taking time to eat at your place of business! This remote seating gets them away from your normal foot traffic flow and keeps rush hour patrons moving through the store at a quick pace.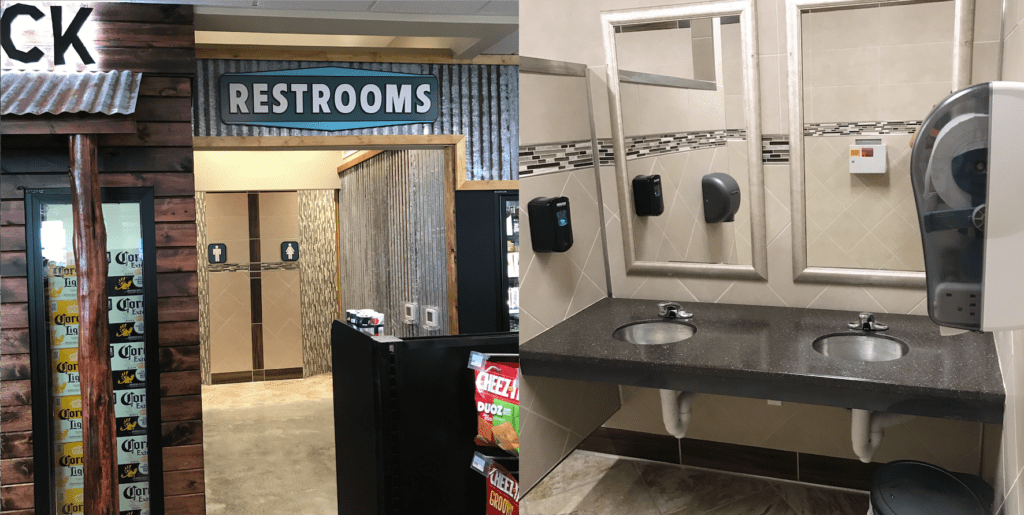 Accommodating Restrooms
Bathrooms are the single biggest error new store owners neglect. Customers need a clean, well-organized place to step into during their busy commute and we accommodate! We can help ensure that your bathroom is well lit, takes up adequate space, and is consistently clean!

This is ASAP Energy!
If you are interested in learning more about our ASAP Energy project, call us today!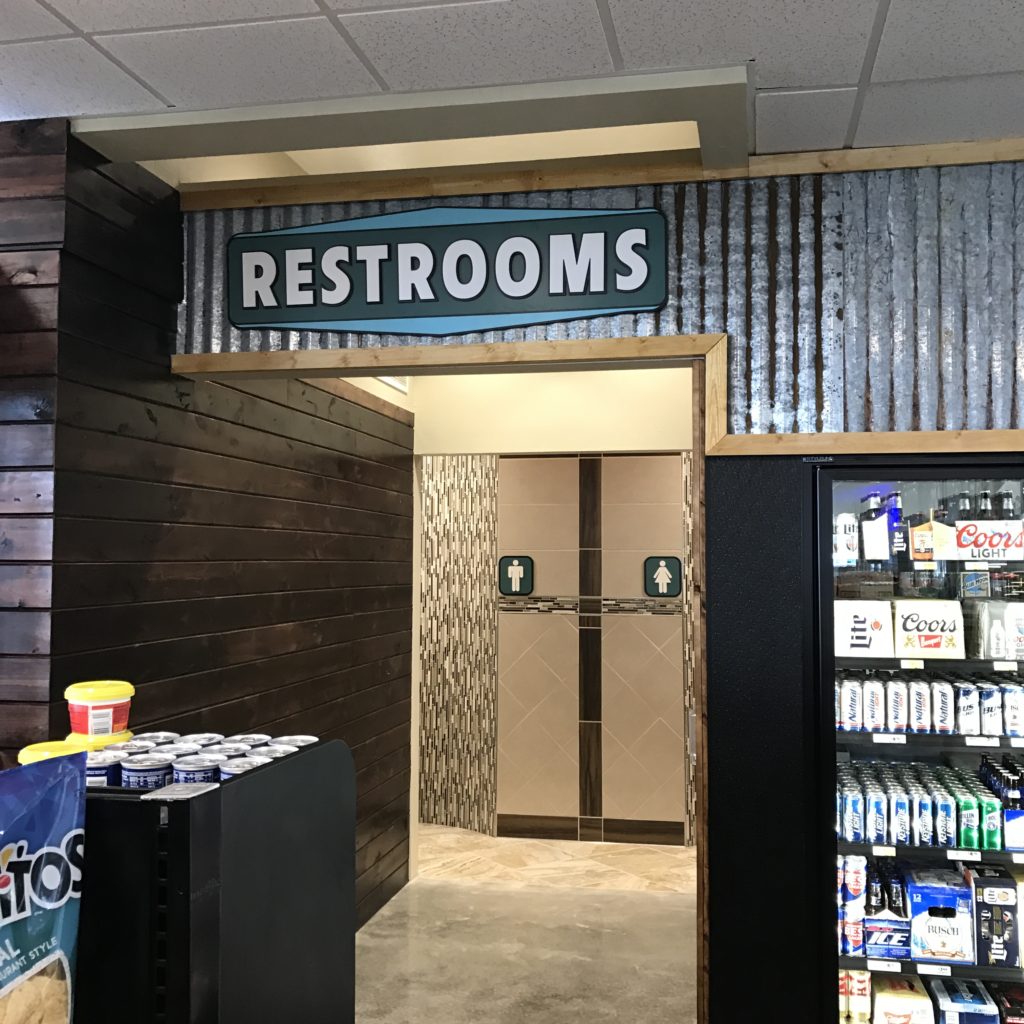 READY FOR BUSINESS!
Let JayComp Development make your Convenience Store dreams a reality with our turn-key Store Development Packages. Don't risk making the mistakes that we know how to avoid! 
READY FOR BUSINESS!
Let JayComp Development make your Convenience Store dreams a reality with our turn-key Store Development Packages. Don't risk making the mistakes that we know how to avoid! Give us a call today to learn more about how you can create the best convenience store floor plan with us here at JayComp Development.
More About Our Convenience Store Floor Plan Design
Floorplans are an essential part of any store's design. A productive floor plan identifies three customer profiles and splits the store into those segments and then facilitates foot traffic patterning to capitalize on impulse opportunities for those patrons.  A good floor plan helps people find the goods they need, it helps patrons find goods they didn't think they needed, and increases flow through the store while increasing the owners bottom line. With customer-specific  floor plan, the customer finds the goods they are looking for quickly and efficiently as a result of predefined patterning based on their profile.
JayComp Development works hard to supply our customers with practical floor plans that maximize the customer experience while providing owners with a store increased profits through minimized time in the store by the patron and efficient traffic routes to enable the customer to shop the retail space quickly and efficiently. 
We understand that the floor plan is the heart of any convenience store layout. A floor plan helps an owner determine the best way to set up the store, giving them control over their store and its features.
Our team works directly with store owners to develop floor plans that work for them and their customers, we base our layout on tried and proven techniques that we have developed from the past 25 years or C-Store Design. We design the Store to Maximize the customers experience and increase the profit profile of the store owner.
Why Utilize a Custom Floor Plan?
Custom floor plans for a convenience store give customers the efficient in-store experience they're looking for while allowing managers to maintain a store that is easy to stock and clean. 
Customers usually want products in locations that make sense to them, so it is best to utilize floor plan design to ensure that everything is in the correct place.
Proper floor plan design in a convenience store can help customers locate goods quickly, giving them access to the products they need. Floor plan design has a basis in the psychology of customer needs.
Our team understands what customers look for before they even enter a store. For this reason, our floor plan design services can help store owners maximize their space while helping customers find what they need.
Benefits of Custom Floor Plan Design
Custom floor plan design can help a store owner best help their customer base, providing everything they need when they enter the store. We understand how vital floor plan design is to customers and owners, so our team of experts would be happy to help store owners access the tools they need to create a great floor plan.
Here are just a few benefits of utilizing a custom floor plan in your convenience store:
It helps customers find what they need quickly

Allows store owners and employees to easily stock and clean

It helps buyers have a more efficient customer experience

Places items in areas that make sense

Meets demand of customers
While many people think that floor plan design is simple, the process requires a lot of thought. To best create a floor plan, a store owner needs to understand their customers' needs.
Jay Comp Development works closely with store owners to ensure that they need the tools to redesign their floor plan. Our team strategizes innovative solutions to common customer problems as we commit to creating a floor plan that helps retain customers and ensure satisfaction.
The Process Behind Designing An Effective Floor Plan
Floor plan design is not just about copying the designs of other stores or locations. Instead, it is about capitalizing on what customers want while giving them access to a quick, positive customer experience.
Floor plan design requires a lot of thought and attention to detail, as each floor plan needs to be unique yet familiar to customers and clients. 
Jay Comp Development has assisted many different convenience and liquor stores, which has helped them innovate on previous designs to create a new customer experience.
About Store Layout and Why It's Important
The layout is the first step for floor plan design. A layout does not have to be complex, but it should include a walkway and aisles. This layout is what customers will follow through the store, so a path needs to be clear and easily accessible.
The layout also determines the placement of store equipment to include the size and shape of the walk-in cooler, placement of the restrooms, placement of the deli offerings and fountain areas.  We address traffic flow and place the Cashier in key interaction situations so that Customer Service is made first priority. Jay Comp Development begins with a clients ideas and develops those ideas through proven strategy to design the store to reflect the owners personality while supplying the needs of their consumers. 
A layout is driven by the local demographic what works in New York may not be a correct fit in Dallas, TX.  Each store is unique its so unique that a store in the same city may have a similar name and look but could be totally different in terms of store layout.  There are lots of facets to be considered when designing your retail location.  The C-Store is a marketing model ever changing an evolving to the trends in the market and customer preferences.  When you invest in a project of this nature you need to make sure the design is flexible so that you can flex with the times.
The layout helps determine the order of importance of the items in the store. It assesses and analyzes needs and wants, giving customers access to what they need when they need it.
The layout can impact:
The placement of items

A customer's journey through the store

The overall feel of the store

How long a customer spends in the store

How much does a customer purchases at the store

And more
With the proper layout, a store owner can ensure that their customers remain satisfied while their store has a sleek, modern look and feel. 
The convenience store layout is essential since people expect these locations to be simple to navigate. JayComp Development can ensure that your convenience store will have an impactful, efficient layout
About JayComp Development
JayComp Development is a convenience shop design firm that specializes in the layout of convenience stores. 
Convenience Store Floor Plans, Foot Traffic Patterning, Equipment Selection, Plumbing Considerations, Wall Framing, and Electrical Considerations are all part of the floor plan design process. 
We not only design locations but we also supply the equipment and fixture package. This approach ensures that the equipment is specific to the store package, it also ensures the equipment fits the space allowed and matches with the Mechanical Electrical and Plumbing considerations.
To provide the most satisfactory service possible, we combine these aspects with graphics and décor that complement the design to create a package tailored to your specific needs and preferences.
In the Convenience Store industry, there are several businesses from which to choose. Few companies, however, understand what it takes to plan and execute a Convenience Store, Grocery Store, or Liquor Store project from start to finish as well as supply the equipment package. All of the segments can be organized and delivered by JayComp Development!
We look forward to hearing from you! We are experts in store design and construction, foot traffic planning, walk in cooler design, and so much more. Contact Us Today! We love helping customers! Feel free to Chat with us by clicking on the button in the bottom right corner of your screen.
9310 OK-1 S, Ravia, OK 73455