Call the Experts at JayComp Development at 877-843-0183
Elevation Series
The Ice-o-Matic machine is the best machine for multiple reasons. If your patrons are always complaining about their drinks tasting like water, chances are that it is your ice machine. 
Ice machines Jay Comp sells create ice that doesn't melt and is perfect for those after-dinner drinks shared with friends. You may surprise yourself at how longer-lasting these machines are. 
Our ice machines will save you time having to scoop out all of the ice that gets stuck at the bottom of the machine. The Ice-o-Matic is equipped with a probe-operated harvest assist, which knocks the ice loose automatically. This helps create better-quality ice. 
Elevation Series™ line of Ice o Matic ice machines meets or exceeds all D.O.E. regulations and standards with up to 20% more energy efficiency and BPA-free parts.
This series is the ultimate solution for needing an ice machine in tight spaces. This is because it discharges hot air from both sides and the top of the unit to optimize airflow. This also reduces exhaust buildup. 
With easy installation and top-of-the-line emergency indicators, The Elevation Series™ Ice o Matic ice machine is easy to maintain and keeps you one step ahead of any issues or problems. When it's time for a service, this series' Smart Harness™ control board, universal components, and digital diagnostics make servicing easy.
The one-touch descaling and sanitizing ensure the ultimate in food safety. The smooth, solid Food Zone allows for a quick wipe down for everyday cleaning, and dishwasher-safe components easily snap off and on.
Call us at 877-843-0183 and stop serving watered-down ice to your patrons. Jay Comp Development will help increase the quality of your drinks with top-of-the-line ice machines.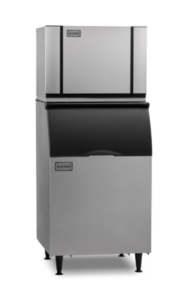 Probe-Operated Assist 
With a probe-operated assist, the ice is automatically knocked loose and will not stick to the sides. The Ice-o-Matic Machine has this built-in to [provide you with the convenience you need to get those drinks out faster. 
Our machines are also built with all BPA-free parts, so no Bisphenol-A exists. BPA is a harmful chemical that is toxic to humans. This means there will be no contaminants in the ice we serve, so patrons don't fall ill. 
20% More Efficiency 
No matter what type of Ice-o-Matic Machine you use, you will be treated to lower energy bills. Our ice machines are revolutionary as they are so technologically advanced as far as ice machines go. Superior ice machines are an investment worth making and will save you money over time 20%.
Ice-o-Matic Machine Series
Cubed Ice Series
MFI Flaked Ice Series
Advantages of Chewable Ice
One of the main advantages of the Ice-o-Matic Machine is the chewable ice that it creates. Why chewable ice, you ask?There are many names for chewable ice, including nuggets and pearls. Chewable ice is excellent for parties and melts much faster than other types. Jay Comp Development offers these and other ice machine brands geared to your patron's particular tastes. 
Cubed Ice and Why it Is Popular 
Cubed ice is traditional, as most people love to have their drinks filled with it. This machine's ice doesn't melt as quickly as others, which allows it to hold up over time. This is perfect for those who love socializing with drinks after a long day at work. Have the cubed ice Ice-o-Matic Machine delivered to your restaurant today!
Flaked Ice is Great for Packing 
Many of our clients have restaurants that use flaked ice. Flaked ice is excellent for packing meats, poultry, and fish. If you are a commercial business owner looking for ice machines delivering flaked ice, try the Ice-o-Matic Machine; you can go right. You'll save money and be less stressed because your meat will go right with flaked ice on hand. 
Simple Operation
The main advantage of the Ice-o-Matic Machine is the simple operation of it. You plug it in, and it does the rest. You won't have to call in a repair person, as these are long-lasting machines. The Ice-o-Matic line perfectly fits hotels, convenience stores, and restaurants. Don't just settle because of price when it comes to ice machines; go with the big dog in the industry. For more information, contact Jay Comp Development and see our machines. 
Consistency 
Suppose your current ice machine is producing different results day after day. In that case, you need to try out the Ice-o-Matic Machine as it is consistent and made of durable construction to take high-traffic situations such as busy bars and restaurants. 
Durability 
Do you find that your ice machines take a beating from equipment that is moved throughout your establishment daily? This differs from the Ice-o-Matic Machine, as it is constructed of materials to take on even the most challenging traffic. Jay Comp Development sells and installs the Ice-o-Matic line, which is made in the USA.
Investment Worth Making
The Ice-o-Matic Machine is a nominal investment worth making for your business as you won't find yourself buried in repairs or replacing it. They tend to outlive their competitors, which makes them the perfect fit for your establishment. 
Compliant 
Food safety is a significant concern for many restaurant and bar owners. The Ice-o-Matic Machine would be an excellent addition to any establishment looking to create a safe place to wine and dine. With built-in descaling and sanitization features, you're moving in the right direction with food safety compliance. 
Smart Control Boards Make Life Easier 
The Ice-o-Matic Machine line has an intelligent control board, making your life easier. With one-touch operation, you'll quickly see the technological advancements they possess. It's like an ice machine for the future! Explore the benefits today and see the future of your business grow. 
Ice-o-Matic Machine Professionals
Don't hesitate to go with the Ice-o-Matic Machine, as it will change how you view ice. Ice cubes are essential to the operation of your business, and we can provide and install the best there is in the business. Jay Comp Development won't disappoint you by offering you the best ice in town. Treat yourself today to an ice machine that won't delay your operations at 877-843-0183.
Looking for a top-quality ice machine that can handle all your needs? Ice o Matic ice machine has you covered with their Elevation Series, GEM Series, Cubed Series, and MFI series. These versatile machines are perfect for mixed drinks, carbonated beverages, ice displays, and more – making them a great choice for restaurants, hotels, convenience stores, and other businesses.
With its durable construction and high-performance operation, the Ice o Matic ice machine is sure to deliver consistent results day after day. So don't settle for anything less – trust the Ice o Matic ice machine to keep your customers happy and your business running smoothly.
The GEM Series- Chewable Ice
Ice O Matic ice machine has proprietary Pearl Ice that is soft, longer-lasting, and chewable. Pearl Ice dispenses smoothly, blends quickly, and displaces liquid better than any other ice. Pearl Ice is perfect for restaurants, hospitality, and healthcare facilities. 
GEM Series Pearl Ice like the Ice o Matic ice machine uses less power and less water than traditional cuber models.  Additionally, the stainless steel exterior construction, industry-leading in-line direct-drive technology, and SystemSafe monitoring technology help reduce the number of costly maintenance and upkeep.
Cubed Ice Series
It's that familiar clinking sound in your favorite beverage. It's the fresh, crystal-clear ice that tumbles into glasses at restaurants, bars, and convenience stores around the world, cooling the drink while preserving the flavor. Our widely popular cube ice never goes out of style and is perfect for any application or occasion. Long-lasting cube ice is the right choice for a wide variety of uses.
Ice-O-Matic ice machine manufactures a full range of ICE Series™  cube ice machines that are designed for simple operation, maintenance, and extreme reliability. This series works well in storage bins, hotel dispensers, and beverage dispensers that are perfect for any food service or hospitality setting.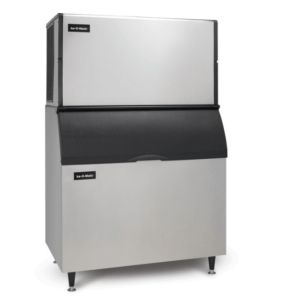 MFI Flaked Ice Series
Our flake ice is ideal for both presentation and preservation of perishable food items. Ice-O-Matic ice machine's flake ice extends the shelf life and appearance of seafood, fresh fruits, and vegetables. Flake-designed ice disperses cool temperatures more thoroughly, making sure that your foods on display remain safe for consumption. Flake ice is also ideal for bakeries, perishable food transport, and health care settings.
Ice-O-Matic ice machine's Self-Contained Flake Ice Makers offer a variety of practical, reliable options for easy operation. Each machine offers a built-in insulated storage bin for maximum ice preservation. The MFI Series is perfect for tight spaces and produces quality slow-melting ice.
Call the Experts at JayComp Development 877-843-0183