Looking for a top-quality ice machine that can handle all your needs? Ice-o-Matic Ice Machines have you covered with their Elevation Series, GEM Series, Cubed series, and MFI series. These versatile machines are perfect for mixed drinks, carbonated beverages, ice displays, and more – making them a great choice for restaurants, hotels, convenience stores, and other businesses.
With its durable construction and high-performance operation, the Ice-o-Matic Ice Machine is sure to deliver consistent results day after day. So don't settle for anything less – trust Ice-o-Matic to keep your customers happy and your business running smoothly.
Call the Experts at JayComp Development at 877-843-0183
Elevation Series
The Elevation Series™ line of Ice-o-Matic machines meets or exceeds all D.O.E. regulations and standards with up to 20% more energy efficiency and BPA-free parts.
This series is the ultimate solution for needing an ice machine in tight spaces. This is because it discharges hot air from both sides and the top of the unit to optimize airflow. This also reduces exhaust buidlup. 
With easy installation and top-of-the-line emergency indicators, The Elevation Series™ is easy to maintain and keeps you one step ahead of any issues or problems. When it's time for a service, this series' Smart Harness™ control board, universal components, and digital diagnostics make servicing easy.
Elevation's one-touch descaling and sanitizing ensure the ultimate in food safety. The smooth, solid Food Zone allows for a quick wipe down for everyday cleaning, and dishwasher-safe components easily snap off and on.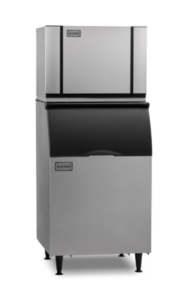 The GEM Series- Chewable Ice
Ice-O-Matic's proprietary Pearl Ice is soft, longer-lasting, and chewable. Pearl Ice dispenses smoothly, blends quickly, and displaces liquid better than any other ice. Pearl ice is perfect for restaurants, hospitality, and healthcare facilities. 
GEM Series Pearl Ice machines use less power and less water than traditional cuber models.  Additionally, the stainless steel exterior construction, industry-leading in-line direct-drive technology, and SystemSafe monitoring technology help reduce the number of costly maintenance and upkeep.
Cubed Ice Series
It's that familiar clinking sound in your favorite beverage. It's the fresh, crystal-clear ice that tumbles into glasses at restaurants, bars, and convenience stores around the world, cooling the drink while preserving the flavor. Our widely popular cube ice never goes out of style and is perfect for any application or occasion. Long-lasting cube ice is the right choice for a wide variety of uses.
Ice-O-Matic manufactures a full range of ICE Series™  cube ice machines are  designed for simple operation and maintenance, and extreme reliability. This series works well in storage bins, hotel dispensers, and beverage dispensers, and are perfect for any food service or hospitality setting.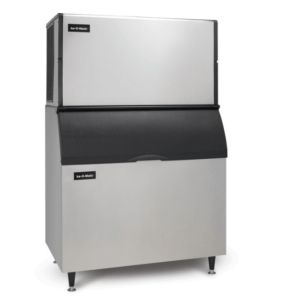 MFI Flaked Ice Series
Our flake ice is ideal for both presentation and preservation of perishable food items. Ice-O-Matic flake ice extends the shelf life and appearance of seafood, fresh fruits, and vegetables. Flake-designed ice disperses cool temperatures more throroghly, making sure that your foods on display remain safe for consumption. Flake ice is also ideal for use in bakeries, perishable food transport, and health care settings.
Ice-O-Matic Self-Contained Flake Ice Makers offer a variety of practical, reliable options for easy operation. Each machine offers a built-in insulated storage bin for maximum ice preservation. The MFI Series is perfect for tight spaces and produces quality slow-melting ice.
Call the Experts at JayComp Development 877-843-0183