Heatcraft Refrigeration Equipment
Refrigeration is the heart of the back of house operations! When done right, it works for years with minor repair issues, running efficiently and saving you money on repairs and energy usage. Done wrong, you have a money pit that you can never fill!

Size Your Refrigeration
Determined by many variables.

Ship Your Refrigeration
Package and Freight right to your door.

Assistance With Troubleshooting
We help make sure your equipment is perfectly tuned to your needs.
Simplicity Refined
Introducing the New intelliGen Refrigeration Controller
INTUITIVE. SIMPLE. SMART.
The intelliGenTM Refrigeration Controller is a factory-mounted electronic control that delivers reliable operation and system performance. intelliGen helps reduce food spoilage by maintaining better temperature control and provides energy savings through optimizing defrosts.
Front-Line Technology for your Walk In Cooler
Heatcraft developed intelliGen to give end-users more effective control of their product integrity. intelliGen reduces temperature fluctuations and lets them know when their product is at risk. With remote monitoring, contractors and end-users receive instant notifications via text, email, Building Management System (BMS) or web.
Heatcraft intelliGen™ Refrigeration Controller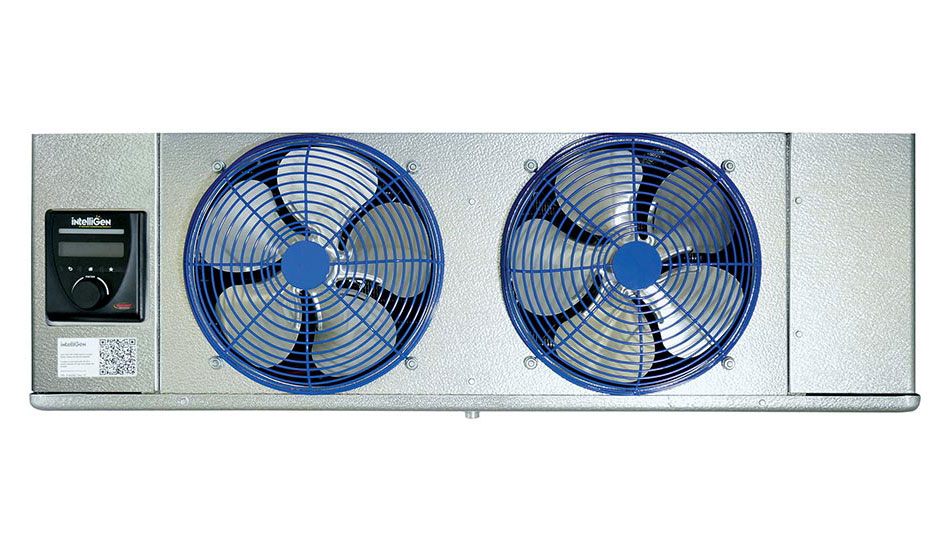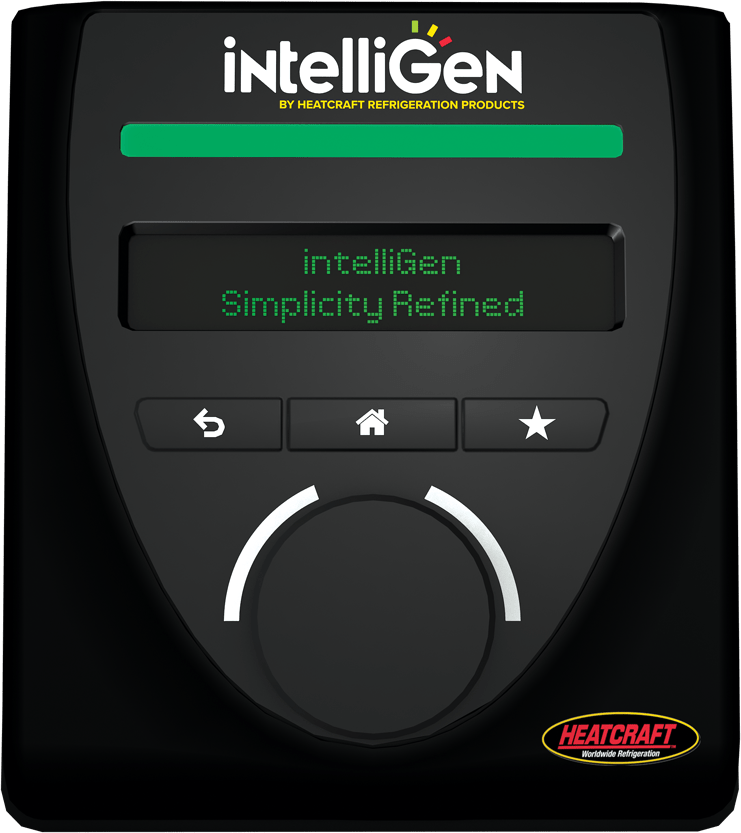 intelliGen incorporates intuitive design, simple installation and smart servicing. Heatcraft developed a user interface that allows the operator to immediately know when and where there is a problem in their refrigeration system. The intuitive interface quickly guides refrigeration technicians through system configuration in minutes, not hours.
Features, such as full text display and bright light bar with alerts, help reduce diagnosis, servicing and downtime. An optional field-installable intelliGen Webserver Card (iWC) enables local and remote monitoring on any smart phone, tablet or laptop.
"intelliGen delivers tremendous benefits to the refrigeration contractor and end-user. For the end-user, the remote access will immediately allow them to know if their product is at risk.
intelliGen gives end-users peace of mind that their product is being kept cold and helps them focus on what is important, which is serving their customers," stated Shashwat Nath, Heatcraft Controls Product Manager. "intelliGen is the easiest electronic control in the market. With the intelliGen intuitive user interface, the contractor can start up a refrigeration system in less than two minutes versus up to two hours to install a conventional mechanical control."
Heatcraft Condensing Units
Refrigeration,  We have that!  We specialize in Refrigeration and we can assist you with your Refrigeration Questions! 
Processing Plants

Restaurants

Convenience Stores

Package Stores

Hermetic Compressors
Scroll Compressors
Discus Compressors
Low Temp Condensing Units

Medium Temp Condensing Units

Warehouse Refrigeration

Ripening Rooms

Breweries
No matter if you are a seasoned Refrigeration Tech or a novice who is trying to understand the concept we have the help you are looking for!
Refrigeration,  We have that!  We specialize in Refrigeration and we can assist you with your Refrigeration Questions! 
The low profile unit cooler

Air Defrost Electric Defrost or Hot Gas

Maximum capacity / Minimum Space .

Designed For Convenience Stores and Restaurant Applications

EC motors Available

Beacon II™ Refrigeration System Adds Computer Monitoring Technology Ask Us about this.
At JayComp Development we size Every application to ensure the refrigeration fits the Application! Many times equipment failure is the direct result of improper equipment sizing we take that out of the equation.
Ambient Operating Temp
Elevation
Condensing Unit to Evaporator Balance
Ambient Humidity
We ask the Questions You Supply the Answers and we Fit the Refrigeration Solution!
Contact JayComp Development, Inc to Supply all of your Heatcraft Refrigeration Needs
We stock an array of Medium and Low Temp Hermetic Condensing units from .5 HP to 6 HP Scroll Lowtemp Units Single and Three Phase available for Same Day Shipment!!
All units are completely leak tested in a helium environment, bump tested and allowed to cycle off on the high and low pressure control.

Each unit has a copy of the run data shipped inside the electrical panel

Electrical circuits are completely checked for continuity

Piping is laid out to minimize stress and vibration and is pre-bent to eliminate leaks

Encapsulated, auto-reset, high and low pressure controls to eliminate leaks (standard on all high and medium temperature models, adjustable low pressure control standard on low temperature models)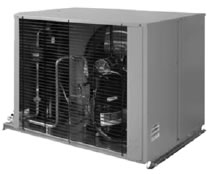 Components:
Fan
Specifically matched with motor and coil to attain maximum air movement and cooling
Motor
Rated for 50 and 60 cycle application

Standard PSC or optional Variable Speed EC (VSEC) with

Orbus™ Controller
Compressor
Wide variety of compressors including: hermetic, semi-hermetic and scroll. R-22 and R-404A/507 available for both medium and low temperature applications

Spring-mounted compressors with vibration eliminators on all 1-1/2 to 6 HP semi-hermetic compressors; 1/2 to 1 HP compressors are rigid mounted and have a discharge loop

Discharge service valves come standard on all units including hermetic.
We look forward to hearing from you! We are experts in store design and construction, foot traffic planning, walk in cooler design, and so much more. Contact Us Today! We love helping customers! Feel free to Chat with us by clicking on the button in the bottom right corner of your screen.
9310 OK-1 S, Ravia, OK 73455
sales@jaycompdevelopment.com