All About Beer Caves
You can upgrade your current store or build new to ensure that beer sales are always top of mind for patrons. A walk-in Beer Cave allows customers to browse and purchase their favorite beers. Beer Caves are designed to store and merchandise large packages of beer and other adult beverages. This allows for more helpful bulk stacking than individual packages merchandised in the cooler doors. JayComp Development is here to help you improve your business with a beer cooler design today!  Building an addition with a custom beer cave is also an excellent opportunity to revitalize business by attracting customers because you will be able to provide the coldest beer in town. A Beer cave holds products at 28 degrees Fahrenheit to ensure the utmost palatability! Beer caves are ideal for grocery stores, liquor shops, hotels, and more!  Caves are becoming more and more popular with business owners. A walk-in cooler allows customers to browse and purchase their favorite beers in smaller packages. In contrast, beer caves allow for merchandising of large beer boxes, typically in case sizes that are bulk stacked inside the beer cave.
What is a Beer Cave?
A beer cave is a giant walk-in cooler that allows you to stock enormous quantities of beer while also allowing your guests to browse and purchase adult beverages at the ideal temperature. When you renovate an existing store or add a new beer cave to your development plan, you'll sell more beer. Local customers will undoubtedly notice and return for a visually pleasing and convenient shopping experience.
How Do Walk-In Coolers Work?
Walk-In coolers lower the temperature of a room via a compressor and work by maintaining a consistent 28-degree temperature throughout your beer cave. The walls are insulated with highly energy-efficient insulation, which will keep your beverages at optimal temperatures for serving excellence without worrying about any drastic energy usage. A cooling system works by exchanging warm air for cold air – allowing you to keep items fresh and ready for purchase and consumption. 
Who Might Need a Beer Cave?
An ideal candidate is someone looking to sell alcohol in bulk quantities, hotels, Convenience Stores, grocery stores, and liquor shops. All beer has a shelf life. It's in a beer cave or stored on a shelf inside a store.  However, this type of commercial refrigeration system isn't limited to just those in the food and beverage industry; any business looking to store their products at an ideal temperature will benefit from its implementation!
What Are the Benefits of Installing a Beer Cave?
You'll receive several benefits when you decide to install a walk-in beer cave into your establishment. 
Effective merchandising of large packages 

Reduced inventory stocking because your employees never touch it

Beer companies stock the beer cave your customers unstock it

Saves expensive stocking space in your glass display doors 
Additionally, the temperature is constant at 28 degrees Fahrenheit for optimal storage conditions. You'd be surprised by how often people come into your place of business just because they need something cold to drink, and there's no doubt that they'll pick up some beer while they're at it. You will save your staff lots of time when restocking your inventory. All of your inventory will already be fully stocked within the beer cave. THE BEER COMPANIES STOCK THE BEER CAVE YOUR CUSTOMERS UNSTOCK AND CARRY IT TO THE CASHIER FOR PURCHASE! Beer caves are becoming increasingly popular because they're so good for businesses. The cave walls are usually white to increase visibility by making the interior bright and inviting. It also enables the store owner to quickly clean the walls of the beer cave because spills and accidents do happen!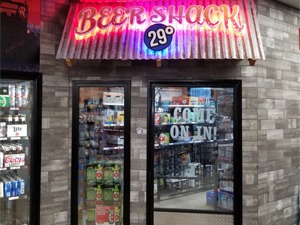 Can Your Business Benefit From a Walk-In Beer Cave?
Now that you're aware of all the benefits that walk-in beer caves offer, you may wonder: can my business benefit from installing such a system? If any of these apply to you, it will be well worth your time and money.
Big inventory

Refrigerated inventory

More storage

Convenience

The time needed for restocking decreases
How Can A Beer Cave Help Me With My Business?
When you buy a walk-in beer cave, you're going to be able to maximize your profits and save tons on energy costs.
A Walk In Beer Cave Will Save Money For Years To Come
Beer caves cost a good deal of money upfront, but the investment makes sense when considering what kind of savings will occur. 
Why Buy A Beer Cave?
There are many great reasons to invest in a beer cave. A beer cave can provide you with lots of inventory for tons of products. Walk-In Beer Caves can also save you a lot of money. You'll find that a beer cave will help you maximize your profits and keep a good amount of inventory on hand. A walk-in beer cave will not break the bank, either – it's an investment that will ultimately pay off for years to come! Beer caves are not a new idea, but since their introduction to the convenience store industry, they have been the best idea for storing beer at an optimal temperature. For years, JayComp Development has worked with convenience stores, liquor stores, grocery stores, and more to design-build, and install custom beer caves Merchandising your beer in a beer cave designed and built by JayComp brings many benefits, including:
Beer held at the perfect temperature

Increased floor and cooler space freed up for other inventory

The time needed for restocking decreases

Provides customers with an appealing shopping experience

Ultimately more sales and repeat customers as you become the talk of the town!
Interested In A Beer Cave For Your Business? 
Get in touch with Jay Comp Development and we would be glad to make you a custom design. Having a beer cave can help you grow your business and bring in different kinds of products. Let us know what you are looking for by giving us a call at 877-843-0183 or leaving a message for us!