Royston Cabinets is the solution for your business needs. You will find sturdier, solid craftsmanship through yourself. When you go with Royston, you use a name you can trust. 
JayComp Development can provide your business with products and design ideas that will change how you think of convenience stores. 
We do installations, set-up, and so much more. If you want to change your existing cabinetry, try the Royston name and go with products that require very little maintenance.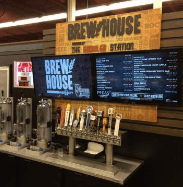 Royston Cabinets 
Royston Cabinets come in all shapes, sizes, and styles. For convenient store and retail design, JayComp Development can satisfy your needs with cabinets, ice machines, and more. 
Specialty cabinets 

Modular metal cabinets 
Benefits of Royston Cabinets 
With Royston Cabinets, you will find that the products we install and carry are practically maintenance-free. What does this mean for your place of business? 
It means that you won't have to replace or continue to add repairs to the Royston line of products. Once they are installed, that's it!
Royston has state-of-the-art products that can benefit your place of business. With a wide variety, your store will be the central focus. Contact us for details at 877-843-0183.
Color Options for Royston Cabinets 
Royston Cabinets presents the finest details for your customers. These fine cabinets come in a variety of colors to choose from. 
You can match the cabinetry to the rest of your store with different color options for a cohesive look. 
Contact JayComp Development for more details about the Royston color options. Our representatives are available to answer any questions and set up a consultation with our experts.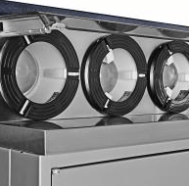 Royston Cabinet Countertops 
Another advantage to having Royston Cabinets in your place of business is the different countertop options available. 
Countertop varieties:
Solid 

Stainless steel

Engineered stone 

Laminates 
Please speak with our design team today about installing your new cabinets and making your business flourish!
Royston Cabinetry Details 
Royston Cabinetry delivers quality and detail into its products. Whenever you need to update your current cabinetry or are looking for a whole new look, here are some details that will entice you to purchase Royston products: 
Condiment trays 

Countertop penetrations 

Cup dispensers 

Fixed base 

Loose bottom 
Your equipment is what helps to sell your products. With cheap-looking equipment, your products will not look alluring. Royston is a game-changer in the convenience store and retail realm. 
Condiment Trays and Royston Cabinets 
Condiment trays make organizing a cinch. You'll be able to control messes and offer different condiment options for your patrons. 
The trays are durable and offer a unique look when paired with roller machines and other hot food products. 
Condiment trays can be a permanent fixture on your brand-new Royston Cabinets. Have yours installed today!
Countertop Penetrations
What countertop penetrations can do for your Royston Cabinets is purely amazing. You'll now be able to organize conveniences such as:
With these handy penetrations, you won't find yourself constantly cleaning up after your customers. Now, that is a huge reason to buy your products at JayComp Development. 
Cup Dispensers 
Cup dispensers added to your Royston Cabinets add a whole new meaning to the word' convenience.' 
Dispensers help keep cups organized and categorized into sizes such as small, medium, and large. 
They also offer a hygienic way of grabbing cups, as customers won't touch each one. Cup dispensers are the way to go if you offer fountain drinks.
Fixed Base
Fixed bases add to the look of Royston Cabinets while keeping them in one tight place. They won't move, which will avoid damages and possible injuries to your customers. 
Keep your customers safe with fixed bases. We can come out and survey your store to make proper suggestions on the location and size of the base. 
Loose Bottom
Loose bottoms on Royston Cabinets can make it easier for maintenance, such as electrical and plumbing. 
They differ from fixed bases as they can be accessed faster for quicker maintenance and repairs. 
When upgrading your equipment, go with a dependable company you can trust; JayComp Development is only a call away at 877-843-0183.
How Cabinetry Enhances the Overall Look of Your Store
The way a store is designed can have a significant impact on its success. When it comes to enhancing the overall look of a store, Royston Cabinets are an important element that should be considered. 
Quality cabinetry not only provides functional storage solutions but can also add aesthetic appeal to a space. 
By incorporating sleek, modern cabinetry into your store design, you can create a cohesive and professional look that will impress your customers. 
Well-crafted cabinetry can add value to your store and showcase your products in an organized and visually enticing manner. 
Also, investing in high-quality cabinetry is an effective way to enhance your store's overall look and feel.
Professional Installations and More
Through outstanding color, texture, graphics, and laminate combinations, Royston Cabinets and other fine products leave a lasting impression on your customers, promoting your store brand and the shopping experience approvingly in their minds.
With the Royston name in your store, your customers will be pleased to purchase your products because many know this is a name of quality products. 
Set up a consultation today, and don't miss out on what could be your most profitable year. You can find us at 877-843-0183.